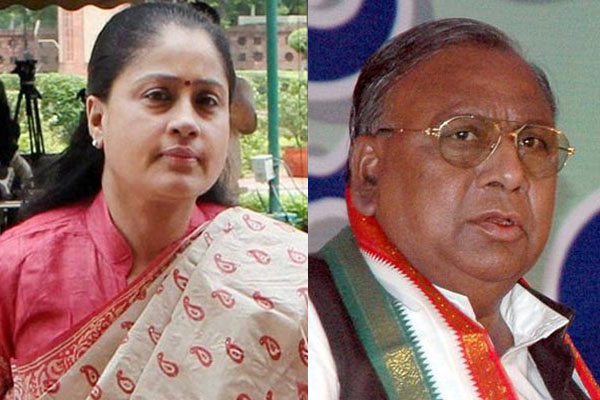 Congress star campaigner Vijayashanti and former PCC president V Hanumantha Rao, popularly known as VH, were publicly seen in a row over disagreeing on something and trying to stop each other from making a public speech. This incident took place during a road show of Congress party at Gajwel, Sddipet district.
Congress party has turned keen on Gajwel constituency, the home constituency of Telangana chief minister K Chandrashekhar Rao, and has deployed all its senior leaders and star campaigners in Medak Lok Sabha constituency, where Anilkumar is contesting from the grand old party.
Congress is known for internal democracy and Gandhibhavan has been witnessing such freedom of leaders, who often disagree with others and resort to protest against decisions of TPCC.
For an unknown reason, Vijayashanti and VH had a war of words on the vehicle top during the roadshow. As a result, both the leaders Vijayashanti and Kusumkumar left the roadshow abruptly. When the Congress MP candidate Anil Kumar got a chance to speak, there's no public to hear the speech.
"It's nothing major. Several senior leaders were participating in the roadshow. So, to get every leader to speak, all the leaders already told to speak briefly. Vijayashanti, working president Kusumkumar, Ramulu Naik and other leaders spoke. When VH got his turn to speak, Vijayashanti asked him to finish the speech quickly. But, VH got angry over it and questioned Vijayashanti for disturbing him. This confrontation led to a bit of exchanging of words. Vijayashanti and Kusumkumar immediately withdrew from the roadshow," said a leader, who took part in the roadshow.