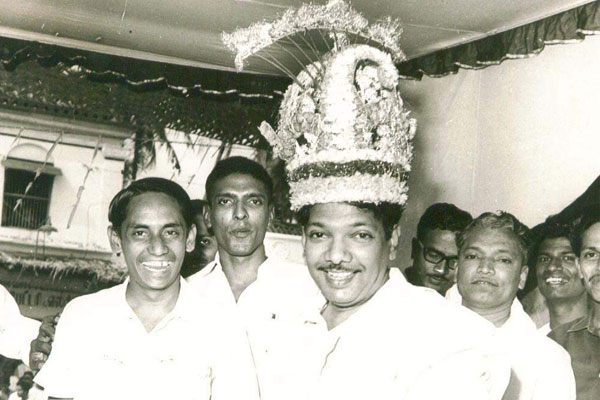 During launch of Janasena in 2014 at Novotel hotel, Pawan Kalyan compared the way Sonia Gandhi acted during Telangana movement with the way Indira Gandi acted during Anti-Hindi movement in Tamil Nadu in 1960s. He praised Indira Gandhi for displaying exemplary leadership skills and visiting Tamil Nadu and confronting the situation when entire Tamil Nadu state was angry on Hindi and North India , and lambasted Sonia Gandhi for not visiting AP when entire Seemandhra was on roads demonstrating their anger. Well, we'll see what's that Anti-Hindi movement, how it made Karunanidhi a hero and how it later helped Indira Gandhi too.
What's Anti-Hindi movement?
First things first. It's not "Anti-Hindi movement" it's "Anti-Hindi imposition movement". While framing constitution of India, choosing official languages for the country was one of the most contentious issues. Leaders from Hindi speaking belt argued, Hindi should be sole official language of the country as English is foreign language for us. Leaders from non-Hindi speaking states did not agree. After lengthy debates, Hindi was made the official language of India from January 26, 1950, by a majority vote. But all leaders agreed to give a 15-years grace period during which, English also would remain as official language along with Hindi. That is only until January 26, 1965 English and Hindi both will be official languages. After that date only Hindi will be official language.
1965: 2 months of agitation, 4 students burned themselves on road, 60 dead in police firing & two Central ministers resigned
As the grace period of 15 years over and as 26 January 1965 approached, a fear gripped on all non-Hindi states. Tamil Nadu was most vocal on the issue and created a strong anti-Hindi (imposition) movement. On 17 January 1965, DMK organized the
Madras State Anti-Hindi Conference. Students preparing for all-India exams were most concerned as they fear they will be outperformed by Hindi-speaking students.They raised and popularized the slogan: 'Hindi never, English ever' and demanded amendment of the constitution. This students' agitation turned into statewide unrest. There were widespread riots and violence, large-scale destruction of railways and Tamil youngsters burned themselves to death.
Entire country shocked. Two Tamil ministers resigned from the Union cabinet. The agitation continued for 2 months, 60 died through police firings. Center finally yielded to the demand of Tamil students and announced a series of steps and then Tamils withdrew the agitation
How it helped Indira Gandhi?
During this agitation, Lal Bahadur Shastri was PM of India. He was staunch supporter of imposing Hindi across the country. Nehru died in 1964 itself and Congress was suffering from lack of leadership at center. Shastri had no grip on party. Indira Gandhi was I&B minister in Lal Bahadur cabinet. While many Congress leaders wanted to impose Hindi at any cost, Indira Gandhi tried to confront the situation and resolve issue amicably. She flew to Madras, showed some sympathy for the agitators and assured them of resolution. Indira Gandhi moved the bill to amend Official Language Act in parliament. She thus became, after Nehru, the first northern leader to win the trust of non-Hindi states and especially South-Indians. She became prime minister, the next year in 1966 and was there in that position for 11 years till 1977.
How it helped DMK and Karunanidhi?
DMK's founder Annadurai also participated in the anti-Hindi imposition agitations earlier but Karunanidhi was always vociferous in this issue. He launched an agitation for changing the name of a town – Dalmiapuram – to Kallakudi and argued the name Dalmiapuram symbolised the exploitation of South India by the North. DMK was front runner in this issue. In 1962, DMK had only 50 seats (out of 234) in assembly. After this anti-Hindi agitation, in 1967 DMK and it's allies combined got 138 out of 234 assembly seats. Annadurai became chief minister. But after his death in 1969, Karunanidhi, who was already in top-2 place in the party became chief minister. Congress never recovered in Tamil Nadu after 1967 elections till date.
-ZURAN (@CriticZuran)
Telugu360 is always open for the best and bright journalists. If you are interested in full-time or freelance, email us at
Krishna@telugu360.com