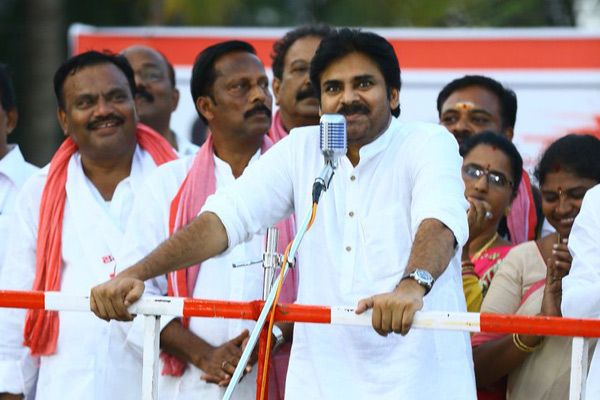 Wherever he goes, Jana Senani Pawan Kalyan faces crowds of fans demanding that he contest from their respective assembly segments. The same came up at his Pithapuram public meeting held as part of his Praja Porata Yatra on Tuesday. As the fans kept cheering and raising slogans, Pawan told them that he was being asked to contest from Tirupati, Pithapuram, Anantapur and Ichchapuram and such places.
The likely segment for Pawan has come up for discussion in internal party meetings several times. The issue has been left to the Selection Committee eventually. A final decision will be made based on the prevailing political situation and the need for Pawan's entry in a particular area in order to boost prospects of Jana Sena as a whole.
There is also a feeling in the party leaders that Pawan Kalyan shall contest from any one assembly segment in Godavari districts as it will serve to motivate 'kapu' voters in a big way. Sources say there is a possibility of Pawan contesting from two seats – one in Coastal Andhra and the other in Rayalaseema.
Pawan's elder brother Chiranjeevi also contested from two segments Tirupati and his native Palacole as he was aspiring for chief ministership in 2009 elections. Chiranjeevi was defeated in Palacole while he won in Tirupati. NTR also used to contest from Hindupur and Kalwakurthy segments during his time. In Telangana, KCR is expected to contest from Gajwel and Medchal segments in order to avoid any risk. CM Chandrababu Naidu restricts himself to Kuppam segment alone every time.