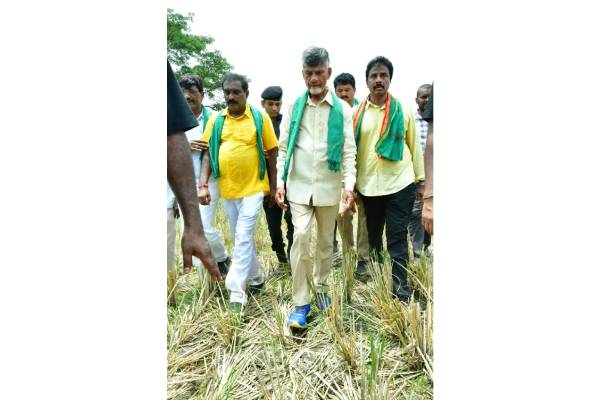 Stating that the crop loss this time is unprecedented due to untimely rains, former chief minister and TDP supremo, Nara Chandrababu Naidu, on Friday asked as to why the State Government has till now not declared the loss officially.
Addressing a massive gathering who actively participated in the 'Rythu Poru Bata' from Iragavaram to Tanuku, Chandrababu Naidu felt that the State Government should at least realise on learning about this huge gathering in the Poru Bata.
"The post of the Chief Minister is a responsibility. Who can react timely during the crisis is called a leader," the TDP supremo stated.
Is it not the Chief Minister who should first visit the affected farmers, asked Chandrababu and remarked that he toured the area for three days only to awake the Government that is in deep sleep.
"We are only asking to pay some ex gratia for the damaged crop but not demanding the moon," he said and felt that this 'psycho' Chief Minister is solely responsible for this damage.
Calling upon the farming community to get awakened and start revolting against this unruly administration, Chandrababu Naidu said even during the Carona pandemic only farmers discharged their duties.
"Does a person who can not respond to the farmers' problems have the right to rule the State," the former chief minister asked.
Observing that he toured the rain-hit areas for three days to have first hand information on the crop damage and on the problems being faced by the farming community, the TDP supremo expressed surprise as to why the grain purchase, which is supposed to begin on April 1, has not started yet.
Pointing out that gunny bags too have not been supplied yet, he asked why the Government failed to alert the farmers on the untimely rains. "It is really sad that the farmers had to spend sleepless nights to protect their crops and the local YSRCP leaders are making money even in supply of gunny bags now," the TDP supremo added.
"Though the 72-hour deadline set for the Government to purchase grain has already ended and the ruling party leaders, instead of responding to the main demand, are resorting to war of words on me," Chandrababu remarked. A person who killed his own paternal uncle gets only this kind of ideas, he felt.
Chandrababu Naidu is of the opinion that the Rythu Bharosa Kendras (RBKs) have turned out to be cheating centres.
"From here I am posing several questions to this Government. What is the total crop damage due to the untimely rains, how farmers are affected and why the State Government has till now not officially announced the quantum of damage," the former chief minister said.