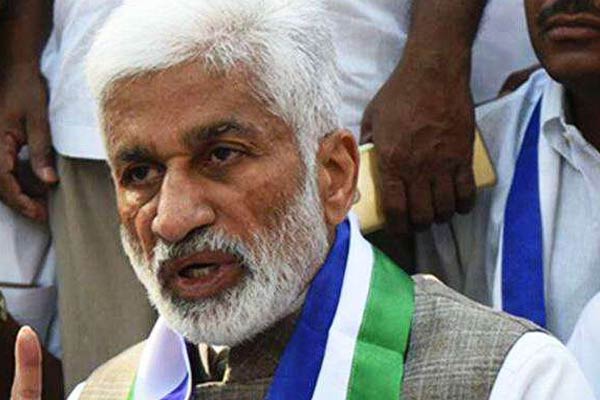 In his latest tweet, YCP MP Vijayasai Reddy attacked Chandrababu, Sujana, CM Ramesh, Kesineni, Lokesh, Kodela, etc. He said that these leaders are crying over Capital shifting because they have bought thousands of acres there under benami names. Vijayasai targetted only Sujana and CM Ramesh but he cleverly avoided others like BJP State President Kanna Laxminarayana who are also objecting to YCP's Amaravati policy. These days, Kanna Lakshminarayana is making the maximum possible criticism against the YCP government on Amaravati, Polavaram, law and order, sand, liquor and what not.
Not a single Minister, MLA or any leader from YCP is daring to hit back at Kanna. These days, Kanna has further intensified his attacks. He has asked CM Jaganmohan Reddy not to forget the sacrifices made by the Amaravati farmers for giving their land for the cause of building Andhra Capital. Amaravati farmers are also not getting their compensation payments to be paid by the government towards giving their land.
YCP knows that Kanna is emotionally attached to Amaravati because part of it is located in the Pedakurapadu assembly segment which Kanna represented in the past. As he is the President of BJP state unit, he will certainly fight for the cause of building Amaravati and even convince Modi-Shah. Seeing this, YCP leaders are very cautious not to embarrass or confront Kanna at this juncture. Vijayasai chose Sujana and Ramesh as soft targets because of their previous links with Chandrababu Naidu.
#SaiRaaPunch #సైరాపంచ్ pic.twitter.com/LYiDzUPCuP

— Vijayasai Reddy V (@VSReddy_MP) August 23, 2019
#SaiRaaPunch #సైరాపంచ్ pic.twitter.com/yh9n6TOhP8

— Vijayasai Reddy V (@VSReddy_MP) August 23, 2019
గతంలో సోము వీర్రాజును రాష్ట్ర బిజెపి అధ్యక్షుడు కాకుండా అడ్డుకున్నాడు చంద్రబాబు. ఇప్పుడు కన్నాను కదిలించి తన విధేయుడిని అధ్యక్షుడిగా నియమించేందుకు సుజనా, సిఎం రమేశ్ ల ద్వారా లాబీయింగ్ చేస్తున్నాడు. ఢిల్లీలో పరిణామాల్ని వీళ్లిద్దరు ఎప్పటికప్పుడు తమ బాస్ కు బ్రీఫ్ చేస్తుంటారు.

— Vijayasai Reddy V (@VSReddy_MP) August 23, 2019
Telugu360 is always open for the best and bright journalists. If you are interested in full-time or freelance, email us at
Krishna@telugu360.com