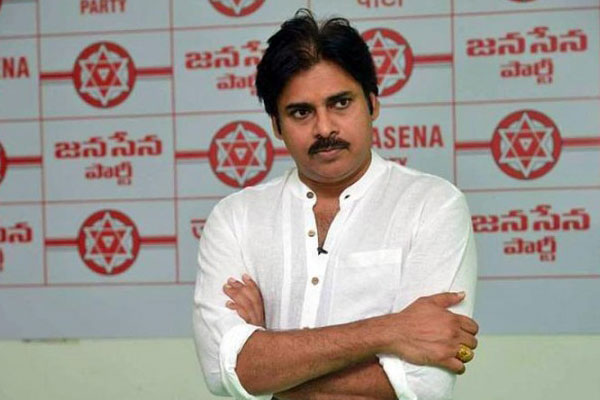 It is known news that Ramana Deekshitulu has fired salvos at TDP and AP government after he raked up controversy regarding embezzlement of Jewellery and particularly of one pink diamond from TTD. Complete coverage of the issue click here:
Ramana Deekshitulu Controversy: Issue, Reports and Paradoxes Also some facts regarding Pink diamond are covered here: (TTD , The Pink Diamond and Startling facts). Interestingly, Pawan Kalyan too now joined the bandwagon on people supporting Ramana Deekshitulu now. Let us see why is he doing this now.
Pawan arguments regarding the Pink diamond and other issues related to TTD :
Pawan started tweets saying, AP governments answers for the concerns raised by Ramana Dikshitulu are not satisfactory. In a series of tweets, he raised these points – " According to AP Govt's 'Lord Balaji's Pink Diamond missing theory'; any robber in the country can relieve jewellery from idols throwing a handful ofyou will find Jewelry embezzled coins at them while the procession is going on.ok, then what about other missing jewels stored in the Vaults. Why any Political Party or Individuals should be scared of 'Ramana Deekshithulu Gari's Deeksha to bring out the truth of missing TTD jewellery'; I will support his Deeksha. We still fight for Kohinoor diamond & when the Lord Balaji pink Diamond & other valuable jewellery is missing.. How come TDP & YSRCP so casual about it?? I am not going leave this issue till both of them press for CBI enquiry? Entire Nation is closely watching,how TDP & YSRCP will respond in this TTD jewels robbery issue? Whoever has robbed the Jewelry of Lord Balaji & the accomplices who supported the Robbers,they all will rot in hell & they will face the wrath of Kaliyuga Daivam 'Lord Balaji'. Don't divert the issue by saying why Ramana Deekshithulu garu kept quiet for this long.. Missing jewellery & his silence for this long are two different issues.Even Media highlighted this issue earlier but Govt sidetracked the issue. I want TDP to come out clean in this issue." He also added, According to "someone", Jewelry went to some middle east country in a private aircraft from our country.
Empty arguments of Pawan Kalyan:
Is it possible to take away jewellery that too of very high value in a private aircraft to other country . Pawan saying so revealing his nativity in politics.
He is questioning " what about other missing jewels stored in the Vaults." But he didn't mention anything about Justice D P Wadhwa committee and Justice Jagannatha Rao committees that gave clean chit to TTD officials in the past. Does committees led by IAS officers and judges have no significance for Pawan?
He questioned – "How come TDP & YSRCP so casual about it". Of course, until yesterday, before doing these tweets, Pawan is also "SO..SO…casual about it". Why is that? For that matter, several leaders of YSRCP spoke about the issue earlier. Of course Vijayasai Reddy tickled funny bones of Telugu people when he said, "If CBN's house is searched within 12 hours, you will find Jewelry embezzled from TTD in his house but if you delay more than 12 hours, CBN will hide all of it".
Valid arguments of Pawan Kalyan
One thing is for sure, it all started after Amit Shah met Ramana Deekshitulu and BJP bigwigs might have asked him to raise this issue strongly. But we need to understand one thing, if everything is so 'clean' at TTD and there is no embezzlement of Jewelry or anything at TTD, and if this issue 'doesn't have any stuff to cause embarrassment to TDP, why BJP, which is said to master in political strategizing, will take up such issue. BJP taking up this issue and attempting to keep the issue in limelight means they might have some bigger plans in raising this issue and they might have some 'inside' information or evidence.
There has been debate on how a diamond will be broken because of coins thrown by devotees. Pawan raised the same issue now. Earlier, TTD officials told, it is not a diamond but just a ruby and so it can be broken. But why would "Mysore Maharaja" donate a ruby to TTD and why would TTD treat a ruby like a very precious thing for hundreds of years. These are the questions that are never answered by TTD properly.
Why Pawan Kalyan has taken up this now
Why is Pawan supporting this issue – is it for Brahmin and other Hindu devotee votes, OR is it because the issue has 'potential' to malign TDP irrespective of whether it has truth or not OR is it because there is some percentage of truth in what Ramana Deekshitulu saying and by supporting him Janasena may get some mileage. If we observe carefully, all political conspiracies, like thriller and suspense movies, start at some point and finally end up with some other unexpected point. Remember Sri Reddy started the issue in social media with "casting couch" issue and with each passing day, targeted Pawan Kalyan and tried to damage his image? Same way, this Ramana Deekshitulu issue might be starting at Pink diamond and nobody knows where it leads to and where it ends up. But even a political sketch by other parties will not work out unless there is some truth.
We will have to wait and see how this issue turns in future, especially after seeing the efforts by various stakeholders to keep the issue alive
-ZURAN
Telugu360 is always open for the best and bright journalists. If you are interested in full-time or freelance, email us at
Krishna@telugu360.com