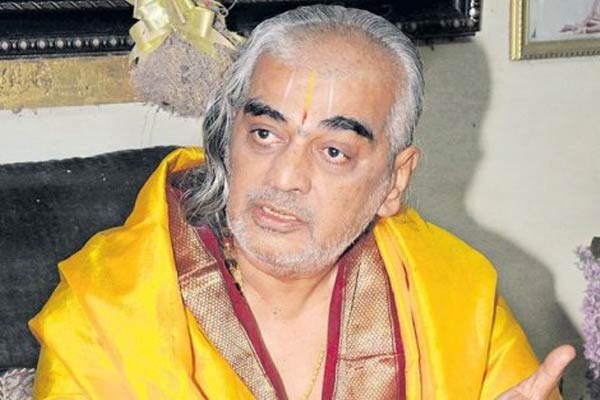 Where it started?
It all started when Ramana Deekshitulu had personally welcomed Amit Shah on May 11 when he, along with his family, visited the Tirumala temple after completing the election campaigning in neighbouring Karnataka. Remember, there was stone pelting on Shah's convoy on the same day by TDP cadre/ local people.
Just welcoming Shah wouldn't have caused an issue but the priest also had a personel meeting with Shah and explained 'a few' things to him. Deekshitulu too admitted that he briefed Shah about the 'anomalies' happening in the temple. Deekshitulu didn't stop there but he went to Chennai to address a press conference and made serious allegations against the TTD and TDP government.
Why Ramana Deekshitulu had to retire?
A BJP led political conspiracy was suspected by TTD and TDP. To counter the attack by Deekshitulu, TTD announced the retirement of five chief priests including Deekshitulu, citing rules under which no priest can serve after 65.
What allegations Ramana Deekshitulu made?
One, unauthorised digging of the kitchen area of the temple was done on December 8. It was first time in more than a thousand years to do so. He alleged that this digging was done to look for a hidden treasures donated by the Chola and Pallava kings.
Two, TTD officials are diverting funds and jewels. One pink diamond belonging to here was smuggled out of the country.
Three, Even though TTD has "Go-shalas" TTD is getting milk and other dairy products from Heritege owned by CBN's family.
What is this Pink Diamond story?
A large pink diamond, rare for its color and clarity, was among several major jewels at Sotheby's auction in Geneva, late 2017 at an estimate 20 – 30 million USD. The Raj Pink, the rare 37.3 carat stone, was the highlight of the Sotheby's sale of precious jewels. Ramana Deekshitulu, alleged that it belonged to the Tirumala. He said that the Mysore Maharaja had donated the platinum necklace studded with pink diamond, the rarest of the rare variety of diamonds. He recalled adorning the jewel on the Balaji idol till 2001. He said the Chief Vigilance Officer, an IPS officer, had recorded the missing pink diamond in the registers as broken due to throwing of coins at the idol by devotees. He alleged, because of 'mismanagement' that diamond crossed borders.
What reply did TTD give on these allegations?
TTD's Executive Officer Anil Kumar Singhal denied all these allegations. he said the records were well maintained since 1956 and two committees led by Justice Wadhva and M Jagannadham had validated it. He said the pink diamond mentioned by Deekshitulu was in fact a ruby, which broke when it fell down during one of the processions. Singhal elaborated that the necklace in which the ruby was embedded was donated by the Maharaja of Mysore in 1945 . He added, former TTD EO IYR Krishna Rao submitted a report to the state government in 2010 stating that the broken stone was a ruby and not a pink diamond as claimed.
Reports and Statements :
There has been hue and cry at times regarding TTD mismanagement of funds and there have been committees to look into the issue.
Justice D P Wadhwa committee: A six-member committee headed by former judge of Supreme Court Justice D P Wadhwa visited Tirumala in September 2010 to verify whether the jewels and precious donations made by Vijayanagara emperor Srikrishna Devaraya as mentioned in `Tiruvabharanam' register of Tirumala Tirupati Devasthanams (TTD) are intact or not. It was YSR regime and the opposition parties including TDP and PRP took out padayatras to the hill temple as a part of their "Save Tirumala" campaign in 2010. Both TDP and PRP faulted the report of Justice Wadhwa committee, who gave a clean chit to TTD in January 2010. Justice Wadhwa committee submitted its 137-page report, including 22 recommendations to TTD in Jan 2010.
Justice Jagannatha Rao committee: Justice Jagannatha Rao said (2010) the Tiruvabharanam register, being maintained in Tirumala temple since 1952, had no mention of any temple ornaments received from Vijayanagar emperor Krishnadevaraya. The committee concluded that all the items were intact
I.Y.R. Krishna Rao's statement: Tirupati Tirumala Devasthanams (TTD) Then executive officer I.Y.R. Krishna Rao, who is now criticizing TDP and CBN on several issues, had asserted in his 2010 report that the Devasthanams has been maintaining a fool-proof inventory system and records of all the precious ornaments.
Ironies and Paradoxes
The issue and controversy are one thing but the paradoxes surrounding it are interesting, from analysts point of view.
Paradox-1: The ruling TDP is now saying there was no mismanagement in TTD but in 2010, it was TDP that made huge hue and cry alleging mismanagement by TTD and YSR's government. TDP only started "Save Tirumala" campaign then. Now the same TTD asserting there was no mismanagement.
Paradox-2: To support their stand of "no mismanagement in Tirumala", TDP leaders and TTD taking help of Wadhwa and Jagannadh committee reports. But when these committees gave reports, it was TDP that raised eye brows on these reports and raised doubts on the reports.
Paradox-3: IYR Krishna Rao, who has been finding faults with all TDP decisions and actions recently, was the one who gave clean chit to TTD then.
Also it is to be noted, Ramana Deekshitulu, who is raising voice now, has been silent all these years. Why he waited for so long to open up on these issues, is unanswered question.
-ZURAN