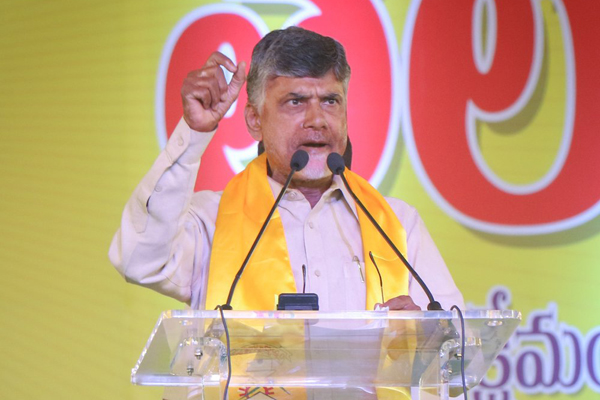 Andhra Pradesh Chief Minister N. Chandrababu Naidu on Wednesday said his government will continue the relentless fight for the state's rights, especially the special category status promised by the Centre at the time of bifurcation of united Andhra Pradesh in 2014.
Naidu made the remarks after hoisting the national flag in Srikakulam to mark the nation's 72nd Independence Day.
As this was his first Independence Day speech after Telugu Desam Party (TDP) pulled out of BJP-led NDA government at the Centre, Naidu spoke about what he calls the injustice meted out to the state by the Centre.
Reiterating that it was an uneven and unjust bifurcation, Naidu alleged that the Centre failed to undo the injustice.
Naidu said his government was working to ensure an 'Ananda Andhra Pradesh' where every citizen feels happy.
Naidu expressed his determination to complete Polavaram project next year. Stating that this project will be the lifeline of Andhra Pradesh, he alleged that the Centre is not making required funds available for its execution despite giving it the status of a national project.
The Chief Minister said the TDP government has tried to ensure that the state continues its march on the path of development.
He said the state has succeeded in achieving double-digit growth rate.
"We have demonstrated that with strong determination anything is possible," he said.
He also gave a detailed account of the welfare and development schemes launched in the last four years. He said the government waived Rs 24,000 crore farm loans and focussed on agriculture to increase productivity.
Prior to his speech, Naidu reviewed the colourful parade and took the salute from contingents of police forces including Andhra Pradesh Special Police, women's brigade of Prohibition and Excise Department, Police Band, Bharat Scouts and Guide and former servicemen.
As the state capital Amaravati is yet to be developed, Andhra Pradesh has been organising main official functions in different towns for the last the five years. Parades were previously held at Kurnool, Visakhapatnam, Anatapur and Tirupati.
Naidu's son and Cabinet Minister Nara Lokesh unfurled the national flag at the Chief Minister's official residence in Amaravati.
State ministers and top officials hoisted the tricolor at official functions held at the district headquarters.
Leader of Opposition and YSR Congress chief Y.S. Jaganmohan Reddy, who is on a state-wide 'padyatra' (foot march), hoisted the national flag at Yerravaram in Visakhapatnam district.