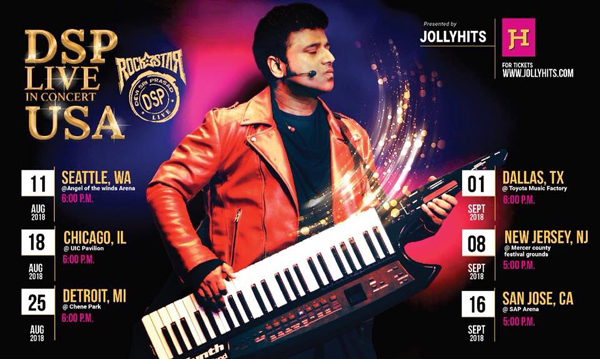 Ace composer Devi Sri Prasad will embark on a month long US tour to enthrall Telugu audience with his music concerts in five big cities starting from August 11th. 
The arrangements for this grand tour are currently underway and DSP has been promoting the event bigtime to draw the attention of overseas audience. Popular US distributor Jolly Hits is organising this event on a big scale. The big question now is whether the event will break even for organisers or not ? 
The expenses for each city's concert will be around 200 K – 300K. Considering the average price of $ 60 per ticket, the footfalls should be very high for each show in order to recoup the expenses. Usually, for popular Telugu local events by TANA and ATA, an attendance of 2000 members is considered very good by organisers. 
It is reckoned that DSP's shows, with high ticket pricing, should attract nearly 3000 paid members for break even, which is a very hefty ask. It may be noted that DSP's previous US concert a couple of years ago resulted in loss for the organisers. So, it remains to be seen if the organisers break even this time or not. 
The tour begins in Seattle on August 11th and moves to Chicago on August 18th and then to Detroit on August 25th. In September, DSP will travel to Dallas on September 1st and New Jersey on September 8th. It will end on September 16th in San Jose.