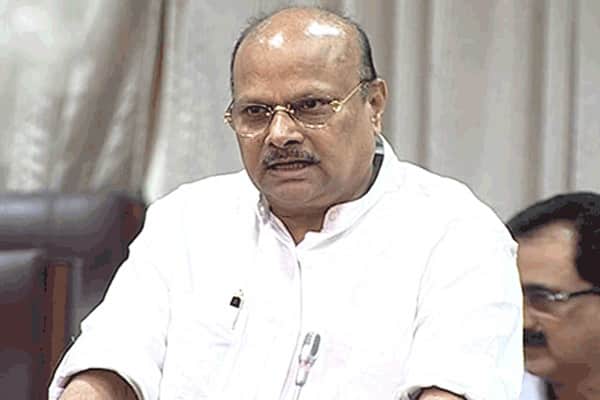 TDP politburo member and former Finance minister, Yanamala Ramakrishnudu, on Tuesday foresaw the 1983 scenario to be repeated in 2024 in the State.
Ramakrishnudu told media persons that when the State was passing through a deep crisis in 1983, the people reposed faith in the Telugu Desam Party and a similar situation is now prevailing in the State and thus the same situation will be repeated.
The criticism on the meeting of TDP supremo, Chandrababu Naidu, and Jana Sena chief, Pawan Kalyan, is a reflection of the insecurity in the YSRCP leadership and the cadre, Ramakrishnudu felt.
Pointing out that he has made a demand to Chief Minister, Jagan Mohan Reddy, several times to come for an open debate on the financial condition of the State, he said that the total debt burden on the State beginning 1956, when AP was formed, to 2014, was a mere Rs 2.56 lakh crore.
But in the three-year rule of Jagan Mohan Reddy, the debt burden reached to a whooping Rs 8.50 lakh cr and it will reach to Rs 11 lakh cr by that time Jagan demits office, the former Finance minister said.
Observing that several regional parties survived only for a few years, he said that it is only the TDP that has been winning the confidence of the people for the past 40 years. "I am really fortunate enough to be in the first Cabinet of the late NTR and since then I have been holding several posts both in the party and in the government," Ramakrishnudu remarked.
It is only the TDP, as a regional party, that played a key role in national politics, he said, adding that the party has been continuously winning the confidence of the people for the past 40 years. The welfare schemes launched by NTR are certainly a weapon for the TDP and whether the party is in power or not it always stands by the people, he observed.
Only after the TDP came to power, pucca houses were built for the poor and several parties, till today, are following the footsteps of NTR about the implementation of the welfare programmes, Yanamala maintained.
"It was NTR, who introduced the pension scheme for the poor and also the janatha clothes scheme. Women got share in property only after NTR came to power," he said.