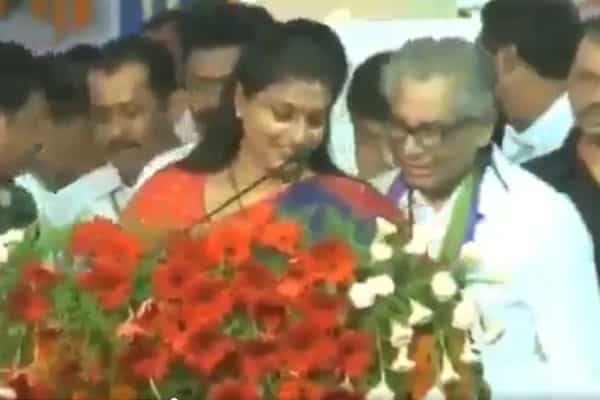 YSR Congress MLA R K Roja in her speech at the party plenary accused, challenged and targeted Andhra Pradesh Chief Minister N Chandrababu in all possible ways. Someone who watched Meelo Evaru Koteshwarudu episode of Roja with Chiranjeevi will doubt her political understanding. The plenary just exposed that the Nagari MLA is merely a scapegoat.
A video surfaced with the so-called firebrand leader, being instructed by Leader of the Opposition in the AP legislative council Ummareddy Venkateshwarlu to reprimand Chandrababu just before commencing her speech. As the conversation goes Ummareddy can be seen informing Roja that "He (Jagan) is asking you to scold Chandrababu repeatedly"
Ummareddy who was a senior leader in Telugu Desham Party defected to YSRCP, but he did not stop esteeming his former leader. In the video, he can be seen addressing the CM in a respectable tone calling him "garu" while seemingly pointed to Jagan in a more casual tone saying "du".
It is evident that the plenary is less about strategy and inspiring the party workers and is more of accusing ruling party and portraying Jagan as future CM. Roja said that Jagan has emerged as Assembly Tiger but this mic gaffe only counters her statement.