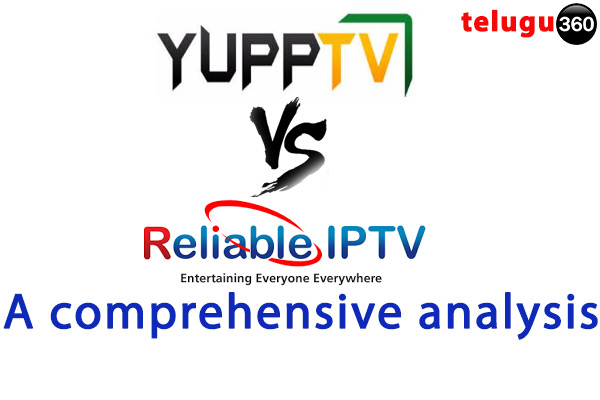 Yupp TV Vs Reliable IPTV Review
Should I sign up for Yupp or Reliable IPTV ? This is a very common side discussion amongst NRIs, who are looking for IPTV options. Our team is presenting a comparison of two major players, Yupp and Reliable IPTV, for Telugu TV channels.
Channel List:
Both providers carry the same set of Telugu channels(30+ channels) and offer them in two packages – Gold and Platinum. On comparing YuppTV's Telugu platinum package to Reliable IPTV's Platinum package, the only difference is 'TV9 Telugu' channel. YuppTV offers TV9 news channel, but Reliable doesn't have TV9. * TV9 live streaming is available on youtube.
Platinum packages of both the providers include Gemini Network channels.
Winner : Tie
Yupp – 1, Reliable – 1 
Cost per Year: 
When calculating total cost for an year, we have to consider a) Plan cost b) Device cost
a) Plan Cost
This is obviously the most critical for consumers. Again comparing Yupp's 'Telugu Platinum Value' package to Reliable 'Platinum' package, both packages are priced at $19.99 per month , $119 for 6 months. However, if one plans to sign up for annual contract, Yupp offers for $179.99, whereas Reliable's price is $199.99
Though on the surface it appears YuppTV costs $20 less with annual plan, there is a catch with Device Fee.
b) Device Fee:
Yupp TV
First Device Activation Charges:
Samsung, Sony,Google TV, Roku, LG, Netgear, Western Digital, PlayStation, Sharp TV, Amazon Fire TV, Android                     TV and Yupp Media Player : $10
Second Device Activation Charges:
$20 (one-time fee) + $2.99/ month
So, assuming a household needs two devices, Yupp TV device fee costs $30 Activation fee plus $36 in annual fees.
Total $66 additional to your $179.99 annual Plan.
YuppTV Platinum package total annual cost is $245.99
Reliable:
First device no activation charge
Second device $4.99 Activation fee + $0.99 per month $16.87
Reliable Platinum package total annual cost is $216.86
Winner : Reliable
Yupp – 1 Reliable – 2
Reliable IPTV with VOIP Phone Package Price:
A good number of customers prefer to get a VOIP phone for making unlimited calls to India. If that is the case, then Reliable is the best option from a cost perspective. Reliable IPTV offers a combo plan with Platinum package for IPTV  and  a VOIP phone for just $29.99 per month , with unlimited calling to USA, Canada, India & many other countries
Winner: Reliable
Yupp – 1 Reliable 3
Device Compatibility:
Yupp beats Reliable IPTV hands down in this area. YuppTV app is available on majority of the devices, all the TV platforms that you can think of . Yupp TV has app on Samsung, LG, Sony, Sharp, Sony, on Playstation , Xbox,Amazon FireTV, Apple TV , Roku Player like streaming devices. Yupp has to be commended for keeping up with the explosion of devices.
Reliable was abysmally poor in this area but things are improving. Currently Reliable IPTV app is available on Samsung, Sony , Google TV, Amazon Fire Stick and available on widely sold Roku player. Reliable IPTV still doesn't work on LG TV Platforms, PlayStation, Xbox devices (Common, Reliable!! We are in 2016 and you need to take your service — apps to the customer and not expect customer to user devices that you have apps on)
Winner : Yupp TV (Emphatically)
Yupp 2 – Reliable 3
Own Device:
Reliable IPTV comes with their own set top box called RBox for streaming , same Rbox can be used for VOIP as well. One device caters both TV and Phone purposes. YuppTV comes with YuppTV Media Player with remote. If one uses both TV plus Phone service, then only Reliable Rbox is advantage, otherwise Yupp TV Media player is superior in quality streaming. However, majority of the consumers view Telugu channels directly via the app on TV (or) on Gaming Devices.So own device from either Yupp or Reliable is mostly irrelevant
Winner : Tie
Yupp 3- Reliable 4
Catch up TV:
Yupp TV Offers 10 day Catchup TV, Reliable TV offers 15 day catchup TV to watch your favorite programs at your own leisure time. YuppTV provides recordings in 30 minutes blocks, while Reliable IPTV recording are one hour blocks
Though YuppTV offers 5 days lesser catch up TV, it is a trivial issue.
Winner : Tie
Yupp 4 – Reliable 5
7) YuppFlix (Vs) Reliable Movies:
Yupp has better movie collection and Reliable movies are not as good as Yupp's collection. Yupp Movies package comes free with Annual IPTV Plan. However, lately all good movies are being pushed to premium service called YuppFlix. Yupp Flix costs you $3.99 per month.
Winner : YUPP TV
Yupp 5- Reliable 5
Customer Service:
Though not perfect, Yupp TV scores much better than Reliable IPTV in customer service.
Winner: YuppTV
YuppTV 6 – Reliable 5
Miscellaneous :
Yupp TV offers better Hindi Channels than Reliable
Streaming Quality is pretty much equal on both Yupp and Reliable
Reliable TV is offered in three US time zones
Apart from Reliable IPTV and YuppTV , there is another high end player, named SLING in IPTV market, but for future review purposes that is kept aside. Major disadvantage with SLING is they don't have India Time LIVE
Overall recommendation:
If you watch only Telugu Channels, and you have Reliable IPTV supported device platforms (Listed above) Reliable may be the budget option.
If you want IPTV + VOIP Phone both services, Reliable is highly recommended option. Your monthly cost for Telugu Channels platinum package plus unlimited calling to India, all together is just $29.99 plus taxes
If you want seamless support on ALL devices and better add-on features with good customer service YUPPTV is market leader and highly recommended.