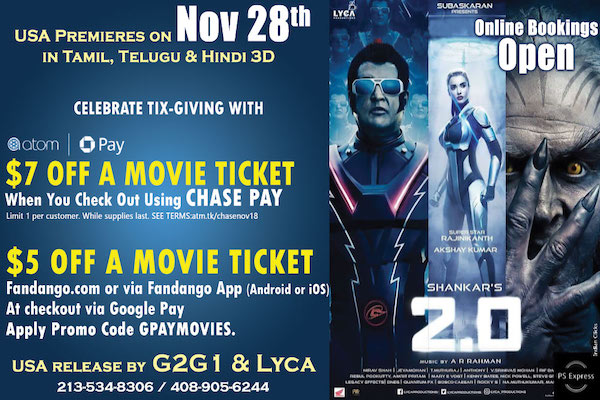 Season's Greetings from Lyca Productions, G2G1 International & Prime Media. As you enjoy the holiday season with friends & families, we would like to make your holiday season extra special by releasing Magnum Opus "2.0" in best screens near you.
Despite tough competition with Hollywood studios, we secured 320+ theaters, 700+ screens and around 3000 shows every day in USA.
Here are the top 5 reasons which might evoke your best interest in choosing the right format to witness the spectacle in right format
1) 2.0 is entirely filmed in 3D like Avatar and Transformers (Dark of the Moon) and not converted like most of other 3D movies.
2) Largely known 3D limitation including brightness and depth issues will not be part of this spectacle due to native 3D format. This has been confirmed by leading theater chain & pioneers Real D when witnessed the trailer on private screening.
3) For a 3D viewing of this kind, witnessing the grandeur on large screens as desired by makers, we have worked hard in booking high end multiplexes and premium large format screens for best theatrical experience. Cinemark, Marcus and Harkins have gone extra miles in scheduling multiple XD -3D shows. Regal will be adding the large format screens soon.
4) Super Star Rajnikanth, Akshay Kumar's avatars and AR Rahman's music will be a treat to experience on BIG screens.
5) The maverick director Shankar who knows the pulse of audience and ensure wholesome entertainment, grandeur and visual extravaganza on big screens. The theme of 2.0 is universal which talks about addiction of smart phones & everyone can relate to it in this time and age with a mix of emotional and entertainment elements.
Tickets have been opened across all theaters for all languages and is selling fast. To make it even more affordable please watch out for twitter handles for movie ticket promotions, coupon codes which you can avail and benefit.
Make time with your family & friends this holiday season & treat them to never seen before magical entertainer 2.0 premiering 28th November in USA.
For trade inquiries please contact G2G1 international or Prime Media.
2Point0usa@gmail.com
213-534-8306 or 408-905-6244
Click Here!! for the USA Showtimes.
Press release by: Indian Clicks, LLC