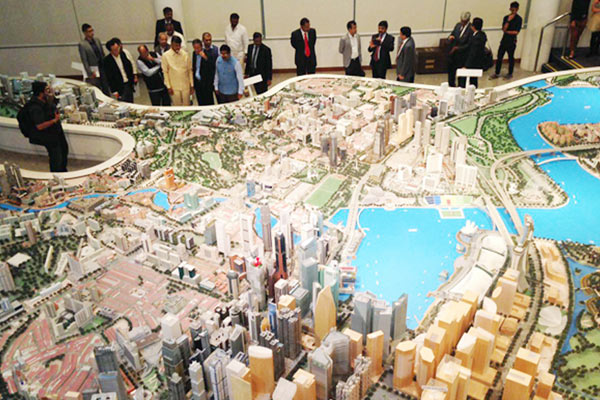 In recent past , BJP state and central leaders have been criticizing AP's capital Amaravati , to coverup their failure to fund it's construction. Envisioned by AP chief minister , the purpose of Amaravati land pool is to utilize it for capital cum economical growth region development, plans are laid accordingly. While people of AP, AP government started questioning BJP Union government,  one of their counter attacks is to question the need of pooled 33,000 acres for Amaravati.
BJP and it's supporting parties' hypocrisy can be exposed if we understand the Dholera  Industrial City which has been in news recently. Located in Modi's home state Gujarat, this city is aimed at attracting huge investments and brisk work is in progress.
What is Dholera City / Special Investment Region ?
Dholera Special Investment Region (DSIR) is a major project under Delhi–Mumbai Industrial Corridor Project (DMICDC). Aim to make it a global manufacturing hub supported by world-class infrastructure. This is located approximately 100 km from Ahmedabad. The Government of Gujarat has created a legislative framework for the formation of a Special Investment Region Act 2009. A Special Purpose Vehicle named Dholera Industrial City Development Limited (DICDL) to implement the project. This is spread in total area 920 km (2.2 lakh acres). Out of this 5,600 acres is core area. The city would be built as a world-class city, with a 10 lane expressway running between the city from the state capital Ahmedabad to the container port. It would be the world's largest urban development project worth $12 billion. Touted to be PM Narendra Modi's pet project (the CM of Gujarat when it was announced in 2007) the DSIR didn't see much activity until Modi became PM and the project received a sanction of Rs 2,784 crore from the central government in 2015.
Compared to Amaravati
Through Land Pooling System (LPS), 33,000 acres of land were acquired by AP state government. Out of this 33,000 acres, administrative Capital would be built-in 900 acres of land and this includes all administrative buildings as well as MLA quarters etc. Compared to Industrial city having 2 lakh acres, Amaravati having 33,000 acres just fades out in comparison. While some say, Amaravati is going to be built in fertile lands which is a wrong move, Dholera – 100 kms from the city of Ahmedabad, also in the lush green cotton fields.
Keeping future in mind
Industrial cities, capital cities and several other infrastructure (like port cities, airports etc) need to be built considering future demands rather than current activity. Usually 25 years of time period is considered for such estimations. Telugu states have few examples like Begumpet airport had to be shifted to Shamshabad as it couldn't satisfy the current demands. So, considering all this, 33 thousand acres might be still small for a capital city. However, some political parties in AP and politicians like Pawan Kalyan are questioning the need for such huge land. In case current or future governments succumb to this kind of thinking and shrink land area of capital city – it may necessitate another shift-from-begumpet-to-shamshabad kind of situation in future. If that happens, future generations may question these opposition parties and leaders like Pawan Kalyan for their lack of vision as whatever they are saying is on the record now.
-ZURAN