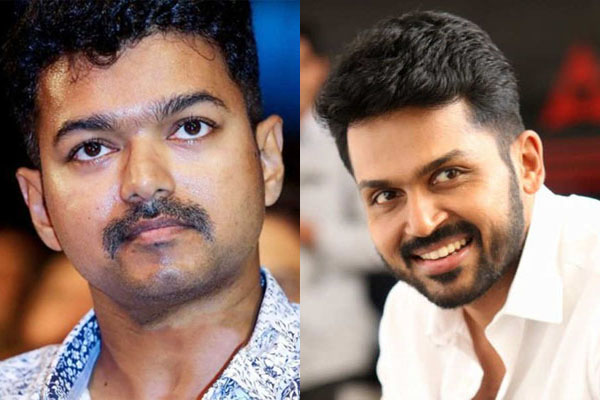 No major Telugu film is releasing during the Diwali festival weekend paving way for two dubbed movies occupying all the screens in Telugu states. While Karthi has steady following and market in Telugu, Vijay has been trying to get a hold of the Telugu market for a long time.
Not having Telugu films in competition is a huge advantage for Vijay and Karthi but this season is also a testing time for them. Karthi's "Khaidi" seems to be a serious movie with no glamour quotient and entertainment. It is an intense drama. Such films have limited appeal at the box-office. Besides the niche content, Karthi's popularity has also come crashing down with a series of flops. This is a big test for Karthi in the Telugu market.
Vijay, on the other hand, has nothing to lose but gain. His "Whistle" has generated terrific buzz all over India. If the film clicks with Telugu audiences, he would stabilize his market here. The film needs to collect Rs 10 Cr minimum to reach the break-even stage. With the help of Dil Raju and super planning by presenter Mahesh Koneru, Vijay's film has grabbed a maximum number of theaters. This is the best time for Vijay to prove his strength now in Tollywood.