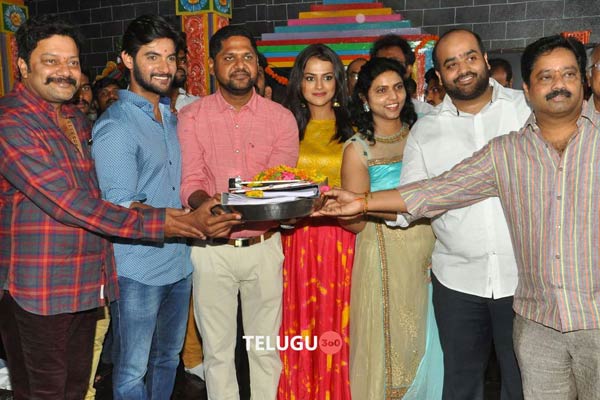 The young and dynamic hero Aadhi began his career with Prema Kaavali and has been consistently doing interesting films throughout. His latest film with U.S.Productions and Vijayalakshmi Entertainments banner has begun officially today at Film Nagar temple. Vishwanath Arigela will be directing this flick and produced jointly by Uppalapati Charan Tej and Gurram Vijayalakshmi. Telangana's cinematography minister Talasani Srinivas Radav offered the clap for the first shot and Charan Tej's parents Uppalapati Ramakrishna and Anuradha switched on the camera.
The director said that he is quite happy to do a film with Aadhi and has special liking for Kala Tapasvi K.Vishwanath. He also said that Swarna Kamalam is one of his all time favourites and when he wrote a female character similar to that of Bhanupriya in that film, he was scouting for a leading lady who is well versed in classical dance. He found Sharddha Srinath to be the ideal choice for this flick and A.R.Rahman's student Phani Kalyan will be composing music for the film. Dasaradhi Sivendra's cinematography will be a highlight of this film. The first schedule for the film is going to start from 19th June and the film is touted to be a family entertainer.
The producers spoke saying that they came to India from USA with extreme passion towards Cinema. They also said that quality will be the biggest priority for this film and there wouldn't be any compromise. Apparently, Vishwanath Arigela narrated this film's storyline two years ago and has been in touch with the producers ever since. The hero Aadi said that he is quite happy to work with a young and energetic team and this film has all elements to make it a fun filled entertainer.
Shraddha Srinath said that she has already worked in two Tamil films and Kannada films as well earlier but finding it great to work with an energetic star like Aadi now for her debut in Tollywood. The film has all fun elements such as love, family drama which also carries a good social message. The actress thanked the director as well as the young producers for giving her the opportunity to act in this exciting project.