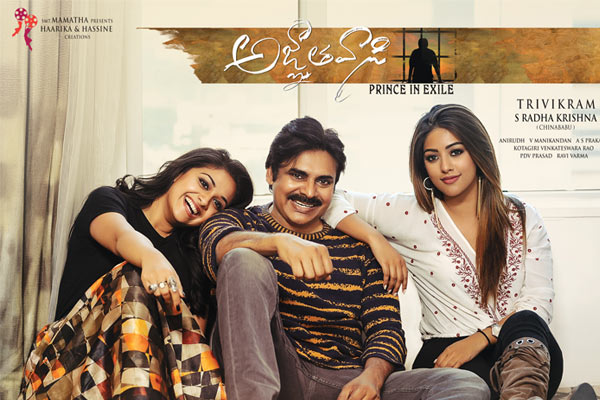 Agnyaathavaasi Movie Review
Agnyaathavasi Review Rating
Telugu360 Rating : 2.5/5
Pawan Kalyan's highly anticipated film Agnyaathavaasi, which has been carrying unprecedented hype and hysteria ever since its launch, has hit the screens today. The combination of Pawan Kalyan – Trivikram has set very high expectations on the film and it is going to embark on a sensational start at the box office. Starring Keerthy Suresh and Anu Emmanuel as female leads, the film has its music by Anirudh Ravichander. Manikandan has cranked the camera. S. Radha Krishna is the film's producer. Let's see how it is.
Here is complete review of Agnyathaavaasi
Story:
Vinda (Boman Irani) is a self-made billionaire and founder of multi-billion 'AB' group. Abhishikth Bhargav (Pawan) is son of Vinda from his first marriage, but step mother Indrani (Khushboo) treats him as good as her own son. Having plan B for everything in his life is Vinda's practice. To protect his business empire in unforeseen circumstances, they raise Abhishikth Bhargav in a distant state Assam.
When vinda is murdered, Indrani calls in Abhishikth to trace the culprits as well as to look after the business empire. Since no one knows Abhishikth's existence till date, he is able to join as an employee in AB group headquarters anonymously. Initial suspects are Sharma (Murali Sharma) and Varma (Rao Ramesh). Just for sake of it, Abhishikth has two love interests and they are Suryakantham (Anu Emmanuel) – a colleague, Sukumari (Keerthy Suresh) – daughter of varma
Rest of the story is when and how Abhishikth realizes the real culprits and how he takes over the business empire after teaching them a lesson.
Lead Actors:
Agnyathavaasi is completely Pawan Kalyan's one man show. You will see Pawan literally in every frame of the movie, and in his elements in many scenes. Khushboo as Indrani did a fine job. However, lack of strong emotional connect in her scenes will lead to lesser impact of her character on the film. Rao Ramesh and Murali sharma steal the show with their comedy timing and Vennela Kishore's track also manages to bring some laughs. Aadi pinisetty's corporate villainy lacks panache. Tanikella Bharani, Jayaprakash, Comedian Srinivas Reddy, Sampath got limited roles and they rendered full justice. Bollywood actor Parag Tyagi was introduced as a villain and his act is ok.
Technical:
V. Manikandan's cinematography and Anirudh's background score are very good and they are able to elevate some scenes with their impressive work. Editing is okay in first half but in second half, may be due to cliched sub plots, it appears a bit patchy. Production values are very rich. To create the high profile corporate ambience, two sub plots shot in europe (in Bulgaria, Croatia), a decent action chase in Bulgaria – etc they spent lavishly but might not be as much as it was projected.
Analysis:
For every Trivikram movie, audience usually expect witty dialogues, well conceived comedy episodes and interesting drama. Unfortunately, Agnyathaavaasi has none of these elements barring one 25-minute comedy episode in the second half. If the script doesn't demand forcibly inserted comedy track, then it is absolutely fine and any writer need not to follow their respective known template. They are more than welcome to come out of their comfort zone to attempt something new. But in Agnyathavaasi, Trivikram could not deliver his trademark elements, not because he has attempted something different. He has ample scope for showcasing his mark in those filler threads he added to the original Largo Winch, but just due to lack of hard work and by taking audience for granted, he has fumbled. May be, while in the customizing process he might have lost his rhythm.
Right from the first scene, this movie has uncanny resemblances to 'Largo Winch'. When as a reviewer I watched 'Largo Winch', I felt that it has a very good story, but is little complicated for Telugu audience because of it's multiple sub plots and as it is narrated back and forth. Any director who decides to remake or freemake 'Largo Winch' would have first worked on simplifying the story. To our surprise, Trivikram didn't even care to fix the Largo Winch film's weakness from Telugu audience POV. Instead he replicated premise, key screenplay elements and entire climax including the pent house location. Even arial camera angles also have been copied frame to frame for climax. That's lazy work from Trivikram and his team. Long story short, these sub plots and too many characters make audience lost somewhere in the middle
Now coming to the movie strengths … Pawan rescues this cliched plot to some extent with his charishma and impeccable screen presence. This film may not have high moments but will not make you unrest in seat. It goes on flat narration on average scale. Second half is better than pale first half and you can enjoy some comedy moments from second half. 'Gaali vaaluga' and 'Baitakochi chuste 'songs have some excellent visuals and great locations. However, they're bit classy and for mass audience they may end up as average songs.
Positives:
Pawan kalyan's one man show
High Production Values
20 minutes comedy in second half
Three songs' visuals
Negatives:
Trivikram mark is badly missing
Too many sub plots to the core story
Heroines thread
Final Verdict:
This film's First half is just OK with no high moments, second half is slightly better. Overall, very average fare that might not satisfy Pawan or Trivikram fans fully. Given no competition this movie might set cash registers ringing for Sankranthi. This film just has to run on Pawan's strength at Boxoffice.
Telugu360 Rating : 2.5/5
Release Date : 10th Jan, 2018
Director : Trivikram
Music Director : Anirudh Ravichander
Choreography : V. Manikandan
Production : Haarika & Hassine Creations
Starring : Pawan Kalyan, Keerthy Suresh, Anu Emmanuel