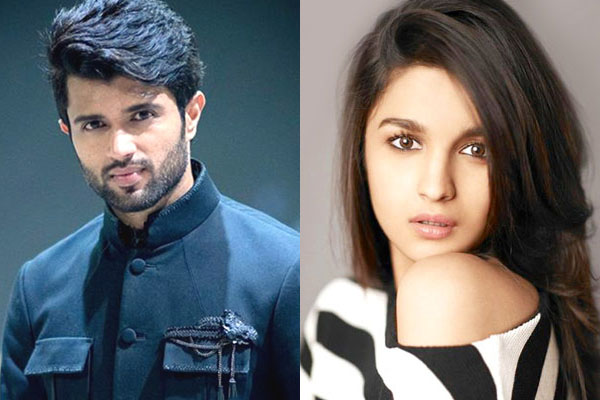 Top Bollywood actress Alia Bhatt left Tollywood actor Vijay Devarakonda in heaps of praises. During a media interaction at Filmfare Glamour and Style Awards, she was asked about the Best Actor and Actress of 2019. Without any hesitation, Alia replied saying that Vijay Devarakonda is her favorite actor of the year ignoring several Bollywood stars. Among the actresses, Alia Bhatt said that Anushka Sharma is her choice. Vijay Devarakonda is creating ripples in Bollywood along with Tollywood. The actor recently participated in the Round Table Conference hosted by Anupama Chopra representing Telugu. He interacted with several top Bollywood and South Indian actors in the debate.
Alia Bhatt said "Vijay Devarakonda is the most glamorous actor for me. He owns a new style. Along with Telugu, Vijay Devarakonda is also making a strong impact in Hindi. Anushka Sharma is my favorite actress". Vijay Devarakonda is frequently making his presence in Mumbai and is partying with top stars. Filmmakers like Karan Johar are keen on introducing Vijay Devarakonda to Bollywood with a straight Hindi film which will happen next year. When several Tollywood actors are struggling to make their impact in Telugu states, Vijay Devarakonda crossed the barriers and is making noise in Bollywood.
Vijay Devarakonda should utilize this opportunity and pick up the right films to cement his position across Bollywood and turn a pan Indian actor soon.