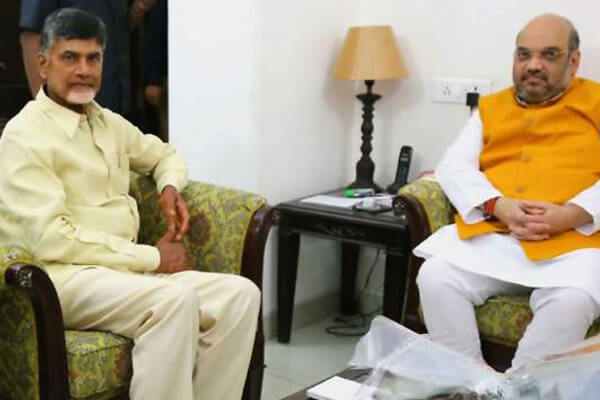 TDP president N Chandrababu Naidu had closeted with BJP national president J P Nadda and Union Home Minister Amit Shah in Delhi on Saturday evening. The meeting lasted for one hour and there must have been talks about politics as all the three are senior politicians.
The BJP had faced humiliating defeat in Karnataka in the South and is struggling to make its presence felt in other southern states. The party wants to improve its presence in Telangana, another southern state where the BJP is present.
Karnataka's defeat had made the BJP look for a helping hand. The TDP in Telangana is strong with a committed cadre across the state. There are some pockets in Telangana where the TDP is still strong with the cadre. The BJP, to win or to save its face in Telangana, thus would certainly have to look for the TDP.
Sources say that Chandrababu Naidu had extended an olive branch to the BJP leaders for the Telangana elections. The BJP would gain from the TDP in Telangana as the party has a strong vote bank and had no political interest. The TDP could transfer all its votes to the BJP in the event of alliance and that would be politically a great help to the saffron party.
In return, sources say that Chandrababu Naidu had asked the BJP leaders to help him in Andhra Pradesh, where he wants to come back to power. He is working hard to wrest power from the YSR Congress in the state and is holding talks with the Jana Sena for alliance.
The BJP-Jana Sena-TDP alliance had worked well in Andhra Pradesh in 2014 elections and Chandrababu Naidu wants to try this strategy once again. Thus, the alliance is equally important for the two parties and it is only a political convenience or strategy one can think of.
It is to be seen if this arrangement works and benefits both the BJP and the TDP in the coming elections in the two Telugu states.