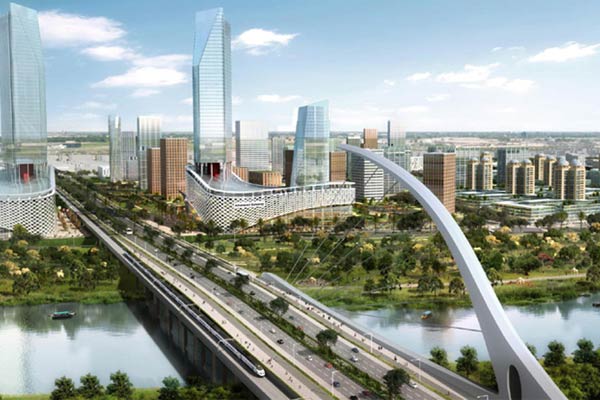 Andhra Pradesh officials are working to bring out the definitive blueprint of government complexes and high court in Amaravati by end of June. The chief minister responded positively to the initial designs of Assembly and High Court submitted by London-based Norman Foster + Partners last week. The firm is now working on submitting final designs in June. The master plan will be available towards end of the month, followed by that the firm will be engaged in Architecture and Engineering designs. Once the designs are finalised after the proposed modifications, government will call for tenders and work will begin as soon as possible.
The chief minister said that the high court chief justice and lawyers should endorse the designs of the high court with minimal involvement from the government. The high court design comprises of High court, Residence of Judges, Universities and Tribunals. Towards the end of June, once the architecture design is completed, works related to engineering design will be kicked off. The government complex will spread across 900 acres while the high court is anticipated to occupy 465 acres. The government complex will host Assembly, secretariat, Raj Bhavan, Residences of Governor and Chief Minister, HOD buildings, MLA quarters and other government quarters.
The constructions will be on par international standards, on the basis of 'walk to work' culture and 5:10:15 ratio. The designs are being built such that in case of emergency a person will be able to reach destination in 5minutes, to work in 10minutes and to public places in 15minutes.
The designs will incorporate water canals on Palavagu in Amaravati similar to the one at Thames in London. It may be recalled that the Government allotted lands to nine thematic cities in Amaravati which will spread over a mammoth 217 sq.km. The cities are Government, Finance, Knowledge, Justice, Health, Sports, Tourism, Media and Electronics to be constructed on the basis of urban development models.
Selected Concept Design option for the proposed Legislature Complex in Amaravati. Please share your views on the video. pic.twitter.com/W4QeuaYT0X

— Amaravati (@PrajaRajadhani) May 31, 2017