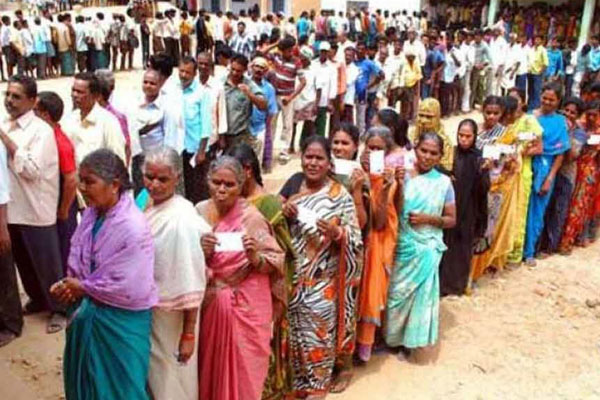 Pictures : AP elections 2019: Celebrities cast votes
TDP will win 125 plus seats, says Minister Adinarayana Reddy
Kadapa TDP MP candidate Minister Adinarayana Reddy is very confident of his victory over the YCP. He said that the TDP would win more than 4 assembly segments out of 10 in Kadapa district. Adinarayana Reddy further said that their party will win over 125 plus seats in the state.
The Minister accused Jaganmohan Reddy of trying to create lots of problems including violence but the TDP sympathisers and activists fought against this bravely. The voting trends were almost one-sided in favour of the TDP. Adinarayana Reddy said that he had got reports that it was the TDP wave all across the state. There's massive support from the women beneficiaries of the Pasupu Kumkuma and loan waiver schemes.
Adinarayana Reddy expressed confidence that the Kadapa district voters would give far greater support than expected. This is all possible with the TDP's single point agenda to do service to all sections of the people with dedication.
Andhra outcome may impact relations with Telangana
With the polling in the bitterly fought elections in Andhra Pradesh over, the question on every mind is whether Telangana Chief Minister K. Chandrashekhar Rao's gameplan to see Y.S. Jagan Mohan Reddy in power will succeed and if not what would be its impact on the relations between the two Telugu states.
After Telangana Rashtra Samithi's landslide victory in Assembly elections in December, Rao had vowed to give a 'return gift' to his Andhra Pradesh counterpart N. Chandrababu Naidu. This was in an an obvious reference to Naidu's aggressive campaigning in Telangana as the Congress party's alliance partner.
The Telugu Desam Party (TDP) chief, during his campaign, focussed on the constituencies in and around Hyderabad with a sizeable population of people having their roots in Andhra Pradesh.
However, the Congress-led 'Praja Kotami' or People's Alliance that also included Communist Party of India (CPI) and Telangana Jana Samithi (TJS) came a cropper. The Congress could win 19 seats in 119-member Assembly while the TDP secured just two seats.
KCR, as the TRS chief is popularly known, declared that he will campaign in Andhra Pradesh against the TDP. However, he backed down apparently after realising that Naidu may use the TRS campaign to his advantage.
The TRS leader declared full support to YSR Congress Party (YSRCP) and also invited it join the Federal Front mooted by KCR as an alternative to both the Congress and the BJP at the national level.
Both KCR and his son and TRS working president K. Chandrashekhar Rao predicted on many occasions that YSRCP will come to power in Andhra Pradesh and will also win 20-22 out of 25 Lok Sabha seats in that state.
This was enough for Naidu to make it a campaign issue and target Jagan for being in collusion with those 'inimical' to Andhra Pradesh's interests. Slamming Prime Minister Narendra Modi for betraying Andhra Pradesh over the issue of special category status, the TDP chief alleged that the 'triumvirate' of Modi, KCR and Jagan was conspiring against the TDP and the state.
"They think Telugus have no masculinity. Don't you get angry over this," Naidu asked people at almost every election rally to whip-up Andhra self-respect sentiments. It was his counter to the TRS slogan of Telangana self-respect in the Assembly elections.
"Jagan stays in Hyderabad and hatches conspiracies with KCR to harm the interests of Andhra Pradesh," was the often repeated allegation by Naidu during the campaign.
The alleged data theft case registered by the Telangana Police last month against a company providing IT services to TDP had strained the relations between the two states. While Telangana Police maintained that the company had illegal access to data of Andhra Pradesh citizens, Naidu hit back with the allegation that TRS committed theft of TDP data to help the YSRCP.
As Telangana formed a Special Investigation Team (SIT) for a thorough probe into the case, Andhra countered this with its own SIT for investigations into the theft of TDP data.
Naidu also accused TRS government that by targeting an IT company it was damaging the brand image of Hyderabad, which he built during his rule as the Chief Minister of undivided Andhra Pradesh (1995-2004).
Almost all the rich Andhra politicians have their economic interests in Hyderabad. The TDP alleged that TRS government threatened its leaders to force them withdraw from the contest against YSRCP.
Analysts say if Naidu retains power in Andhra Pradesh, already strained relations between the two states could take a turn for the worse. Naidu may even offer huge incentives to woo Andhra investors based in Hyderabad to shift to his state.
Alleging uneven distribution of assets at the time of bifurcation, Naidu had been demanding the Centre ensure that Andhra Pradesh get its due share as envisaged in Andhra Pradesh Reorganisation Act.
The Telugu states already have disputes over sharing of river waters and they often accuse each other of creating hurdles in the construction of irrigation projects.
Polling ends in 16 LS constituencies of Telangana
Barring Nizamabad, polling for the Lok Sabha seats in Telangana ended peacefully at 5 p.m on Thursday.
About 49 per cent voter turnout was recorded in all 17 constituencies till 5 p.m. The final polling percentage will be known late in the evening.
Polling in 13 Maoist-affected Assembly segments under five Lok Sabha constituencies ended at 4 p.m.
In Nizamabad, a record number of EVMs are being used to accommodate 185 candidates, and the polling will continue till 6 p.m.
Chief Electoral Officer Rajath Kumar said those standing in queues would be allowed to vote, irrespective of the time this would take.
Nearly 2.97 crore voters were eligible to cast their votes to decide the fortunes of 443 candidates including 25 women.
The election authorities had set up 46,120 polling stations and deployed three lakh personnel including about a lakh security men as part of the elaborate arrangements.
Telangana Chief Minister and Telangana Rashtra Samithi (TRS) chief K. Chandrashekhar Rao's daughter K. Kavitha, senior TRS leader Vinod Kumar, state Congress chief Uttam Kumar Reddy, former Union Minister Renuka Chowdary (Congress) and All India Majlis-e-Ittehadul Muslimeen (AIMIM) President Asaduddin Owaisi were among the prominent candidates.
The counting of votes will be taken up on May 23 after completion of the polling process across the state.
In 2014, the TRS had bagged 11 seats while the Congress secured two seats. The Bharatiya Janata Party (BJP), Telugu Desam Party (TDP), AIMIM and YSR Congress Party (YSRCP) had won a seat each.
The TDP and the YSRCP did not contest the elections in Telangana this time.
High Tension in Allagadda
High tension prevails in Allagadda constituency as Bhuma family staged a protest on roads against Gangula family. Bhuma family alleged YSRCP leader Vijayendar Reddy kidnapped one of the Bhuma family followers. Details as below.
At Ahobilam, TDP followers and YSRCP followers pelted stones at each other following the fight between the cadres of both parties. Bhuma Mounika, sister of TDP MLA candidate Bhuma Akhilapriya alleged that Gangula family kidnapped one of their followers. Bhuma family complained police about this incident and police assured them of resolving this in some time. Mounika questioned, if there is no security to the family of MLA, how can police protect common people.
However, Gangula Pratap Reddy condemned these allegations and told, they have not kidnapped anyone. He alleged Bhuma family is making false allegations as they are fearing the defeat. He also told that, Bhuma family is violating the code by using more vehicles.
As of now high tension prevails at Allagadda because of the intense fight between Bhuma family and Gangula families.
Polling percentages by 3pm in AP
At many places, people returned to homes without voting as EVMs were not working in the morning. At some places, even till 11 am EVMs did not work. Because of this, many analysts are predicting overall voting percentage to be less than the previous percentage.
As of now total of 48% polling is recorded in AP, as per the reports.
District wise reports are as below:
Srikakulam – 37%
Vizianagaram – 44%
Vizag – 36%
East Godavari – 41%
West Godavari – 37%
Krishna – 36%
Guntur 36%
Nellore 41%
Prakasam – 41%
Kurnool – 40%
Kadapa – 43 %
Anantapuram- 38%
These numbers are recorded by afternoon. Polling was high in the morning hours but it slowed down during afternoon. As per reports, it now picked up again. Election commission has denied to extend timings even though EVM machines did not work properly in the morning and a few hours wasted. However, EC told, whoever are in queue lines by 6 pm will get chance to vote no matter till what time voting extends.
Chiranjeevi, Jr. NTR, Ram Charan cast their vote
Popular Telugu stars such as Chiranjeevi, Jr. NTR, Ram Charan and Allu Arjun among others cast their ballot here on Thursday.
Actors Sudheer Babu, Manchu Vishnu, Amala Akkineni, composer MM Keeravani and filmmaker S.S Rajamouli among others, also stepped out to vote on the first day of the Lok Sabha elections.
Chiranjeevi voted along with his family members, including his wife, son Ram Charan and daughter-in-law Upasana Konidela.
Jr. NTR was joined by his mother and wife at the polling booth.
Actor and Janasena party chief Pawan Kalyan cast his vote in Vijayawada.
Nandamuri Balakrishna was accompanied by his wife to cast the vote.
Allu Arjun preferred to go alone and vote.
A thrilled Rajamouli after voting took to twitter and wrote: "Half of my unit members left to their towns and villages to exercise their vote. Good. Do vote. If you think no party/candidate makes a difference, make use of nota."
Newlywed couple Akkineni Naga Chaitanya and Samantha Akkineni came together to vote.
పోలింగ్ సందర్భంగా పలు చోట్ల ఘర్షణలు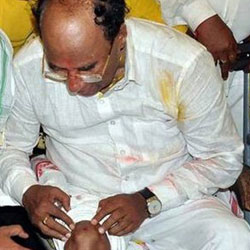 ఒకవైపు ఈవీఎం మెషిన్లు మొరాయిస్తూ ఉండడంతో ఓటర్లు తీవ్ర నిరసన వ్యక్తం చేస్తూ ఉంటే, మరొకవైపు అవాంఛనీయ ఘటన లతో, ప్రధాన పార్టీల కార్యకర్తల మధ్య ఘర్షణలతో పోలింగ్ సరళి కొనసాగుతోంది.
తాడిపత్రిలో మీరాపురం లో వైఎస్ఆర్ సిపి నేతల దాడులలో తెలుగుదేశం పార్టీ నేత సిద్ధ భాస్కర్ రెడ్డి తీవ్రం గా గాయాలపాలయ్యాడు. ఆస్పత్రికి తీసుకెళ్లి నప్పటికీ, పరిస్థితి విషమించడంతో మృతి చెందారు. రాప్తాడు నియోజకవర్గంలో తెలుగుదేశం వైఎస్సార్సీపీ వర్గీయులు కర్రలతో పరస్పరం కొట్టుకోవడంతో దాదాపు పది మందికి గాయాలు అయ్యాయి.
చంద్రగిరి నియోజకవర్గంలో వైఎస్సార్ సీపీ నేత చెవిరెడ్డి భాస్కర్ రెడ్డి కి ఓటర్లకు మధ్య ఘర్షణ జరిగింది. ఓటర్ ల మీద చెవిరెడ్డి భాస్కర్ రెడ్డి దుర్భాషలాడడం మొదలుపెట్టగానే, గ్రామస్తులు చెవిరెడ్డి మీద తిరగబడ్డారు. దీంతో అక్కడ కూడా ఘర్షణ పూరిత వాతావరణం ఏర్పడింది. అలాగే కడప జిల్లా బద్వేలులో, పోలింగ్ బూత్ తలుపులు మూసి వేసి వైఎస్ఆర్సిపి ఏజెంట్లు జరిగింది పాల్పడుతున్నారన్న వార్తలు స్థానికంగా సంచలనం సృష్టిస్తున్నాయి. అలాగే ఆళ్లగడ్డలో ఇరువర్గాల కార్యకర్తలు పరస్పరం రాళ్లు రువ్వుకోవడంతో, మంత్రి అఖిలప్రియ, ఆవిడ చెల్లెలు దాడులలో గాయపడ్డారు.
ఇంకా, సత్తెనపల్లి నియోజకవర్గం లో స్పీకర్ కోడెల శివప్రసాద్ పై వైఎస్సార్సీపీ వర్గీయులు దాడి చేసి చొక్కా చించివేయడం స్థానికంగా సంచలనం సృష్టించింది. దీంతోపాటు, తూర్పుగోదావరి జిల్లాలో కూడా పలుచోట్ల ఘర్షణ సంఘటనలు నమోదయ్యాయి. సాధారణంగా సాఫీగా ఎన్నికలు జరిగే గోదావరి జిల్లాల్లో ఇలాంటి ఘటన జరగడం ఆశ్చర్యాన్ని కలిగిస్తోంది. రాష్ట్రవ్యాప్తంగా పలుచోట్ల జరుగుతున్న ఘర్షణలు చూస్తుంటే గత రెండు ఎన్నికలతో పోలిస్తే ఈసారి వాతావరణం మరింత హింసాత్మకంగా ఉన్నట్టు కనిపిస్తోంది.
After casting vote, Komatireddy makes sensational remarks
Hyderabad: Komatireddy Venkat Reddy, Congress candidate in Bhongir Lok Sabha constituency, has expressed concerns over the way functioning of EVMs. He said that whichever symbol was pressed, VV PAT showing car symbol only.
After casting his vote along with family members at Nalgonda public school on Thursday, Komatireddy spoke with the media. "I have doubts over the functioning of electronic voting machines at the polling stations in Bhongir Lok Sabha constituency. It's reported so far that about 10 polling stations, VV PATs are showing car symbol regardless of pressing any other symbol. We have already complained it to returning official. I demand to stop the polling process at the polling stations where EVMs are not functioning well."
Komatireddy has called upon Congress cadres to be alert at the polling stations to avoid any discrepancies.
On the other side in Andhra Pradesh, several EVMs are reportedly not working and this has led to halting the voting process at several places. AP electoral officer Dwivedi said that about 372 EVMs were not working owing to technical glitches and our engineers are on the job.
The ruling Telugu Desam Party (TDP) has complained to the Election Commission (EC) about technical glitches of EVMs and demanded for re-polling at 157 polling stations. TDP in its complaint informed the EC that about 30 per cent EVMs are not working in the state. Meanwhile, the EC has denied to extend polling time at polling stations, where EVMs didn't work for sometime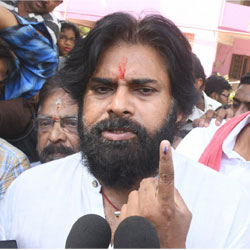 Pawan Kalyan condemns breaking EVM incident
Hyderabad: Jana Sena chief Pawan Kalyan has condemned the act of breaking electronic voting machine (EVM), while expressing dissatisfaction over the malfunctioning of EVMs. Whoever did such act was not a welcome feature, he said. Jana Sena party candidate in Anantapur Madusudhan Gupta broke an EVM at a polling station in the constituency where he's contesting.
After casting his vote at Patamata in Vijayawada, Pawan Kalyan responded on Ananatpur polling station incident.
Pawan Kalyan said: "I condemn the incident of breaking EVM. Such an act is not good. However, we have to know what exactly happened there. I can't comment on this without knowing the complete details. I have reports that some EVMs at several polling stations are not working."
Madusudhan Gupta, Jana Sena candidate in Gunthakal Assembly constituency in Anantapur district, broke an EVM at 183 polling booth located at Guthi Girls High School.
This incident took place, when Gupta became angry over the way Assembly and Parliament names written in the Voting chamber. Subsequently, Gupta got into argument with the polling staff and lost control before taking an EVM and hammered it down on the floor. Police took him into custody after the EVM was broken.
The reports on non-functioning of EVMs from several polling stations in Telangana and Andhra Pradesh are creating havoc in the Telugu states.
సిగ్గుచేటు: 30% చోట్ల పనిచేయని ఈవీఎం మిషన్లు, సమయం పెంచడానికి ఈసీ నిరాకరణ
ఈ రోజు ఉదయం నుండి ఓటు వేయడం కోసం ఓటర్లు బారులు తీరి ఉన్నారు. అయితే పలు చోట్ల ఈవీఎంలు పనిచేయకపోవడంతో పోలింగ్ సిబ్బందికి, ఓటర్లకు మధ్య వాగ్వాదం జరుగుతోంది. దాదాపు నాలుగు గంటలపాటు వేచి ఉన్నప్పటికీ ఇప్పటికీ ఈవీఎంలు చేయకపోవడంతో, వృద్ధులు మరికొంత మంది ఇతరులు వెనక్కి తిరిగి వెళ్లిపోయారు. వీరిలో చాలామంది మళ్లీ వచ్చి ఓటు వేయడం సందేహమే. దీంతో ఈసారి పోలింగ్ శాతం తగ్గే అవకాశం కనిపిస్తోంది.
మరొక చోట, మొదటి ఓటు వేసిన పార్టీ ఏజెంటుకు, అప్పటికే 50 ఓట్లు పోలైనట్లుగా మిషన్ చూపించడంతో, ఏజెంట్కు సిబ్బందికి మధ్య వాగ్వాదం జరిగింది. అయితే సిబ్బంది నుండి సమాచారం సరిగ్గా రాకపోవడంతో చాలాచోట్ల ఒక నిరసన వాతావరణం కనిపిస్తోంది. ఇంకొక నియోజకవర్గంలో, సిబ్బంది ఓటర్లను వెనక్కి పంపించి వేసి, మధ్యాహ్నం తర్వాత వచ్చి ఓటు వేయమని చెబుతున్నారు. ఈ పరిస్థితుల కారణంగా ఎలక్షన్ కమిషన్ మీద ప్రజలకు నమ్మకం కోల్పోయే పరిస్థితులు కనిపిస్తున్నాయి.
చాలా మంది ఓటర్లు , మిషన్లు పనిచేయని చోట్ల కూడా తాము ఇంటికి వెళ్ళమని ఇక్కడే కూర్చుంటామని, మిషన్లు పని చూశాక ఓటు వేసే వెళతామని టీవీ కెమెరాల ముందు చెబుతున్నారు. పైగా, ఈవీఎం మిషన్లలో అవకతవకలు జరుగుతున్నాయని, సోషల్ మీడియాలో వస్తున్న వార్తలు ఇప్పుడు నమ్మాల్సిన పరిస్థితి ఏర్పడుతుందని వారు అంటున్నారు.
30 per cent EVMs failing – TDP demands repolling
Today's AP election is facing severe criticism from different sections of voters. Wherever the TDP is stronger, there are complaints of malfunctioning EVMs. Nearly 30 per cent EVMs reported failures all over the state. Where delay is caused for more than 3 hours, there the demands are coming for repolling. The TDP leaders blamed the Election Commission of India for its total failure to conduct a smooth poll.
At Moghalrajapuram polling station in Vijayawada, the voters protested over too much delay in voting. They demanded repoll as the political parties agents locked the polling station. The TDP leaders alleged that in some places, the voters complained that though they voted for TDP, the VVPAT slips showed the YCP symbol or the BJP symbol. The problem was immediately reported to the polling officials. The voting was also stopped in such polling stations.
TDP Spokesman Varla Ramaiah said the Election Commission deliberately didn't take proper steps for smooth conduct of the election. Such issues are not there in Telangana.
TDP rejected the election officials proposal to repair EVMs. They say there is a chance for the YCP and BJP to manipulate the engineers. Where EVMs malfunctioning is reported, TDP demanded repoll.
Voting still continuing at Gajuwaka
At Gajuwaka constituency, where Janasena chief Pawan Kalyan is contesting, voting is still continuing even at 8 pm. By 5 pm, voting recorded was 58% and many voters are still waiting in long queue lines to exercise their voting right.
Here also, voting started at 7 am itself but because of issues with EVM machines, polling was delayed by almost 2 hours. During noon, many voters returned to their homes because of high temperatures but they came back again to vote after 3 pm. The polling booths in this constituency are resembling pilgrim places now. Polling staff has made sufficient arrangements to continue polling even after the fall of light.
Moreover, many youngsters are taking initiatives to bring elderly people and women to polling booths and assisting them. Polling here is going on peacefully without any unwanted incidents.
Telugu360 is always open for the best and bright journalists. If you are interested in full-time or freelance, email us at
Krishna@telugu360.com