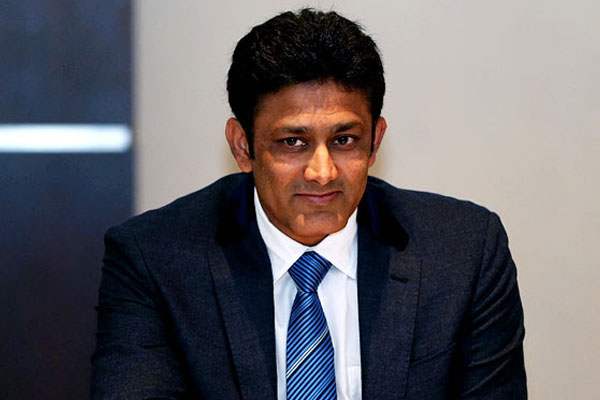 Anil Kumble India Cricket Team New Coach
S.R.Seshu
As we guessed it right (Read: Winds in favour of Jumbo Kumble), the legendary spin bowler, former Indian captain and noncontroversial-cool headed Anil Kumble has been made the Chief coach of the Indian national cricket team, albeit for one year to start with. Kumble, who put in 18 long years of International experience, is the first Indian to be appointed full-time India coach since Kapil Dev resigned in September 2000.
After a crucial meeting, the Board of Cricket Control of India made this announcement in Dharmashala on Thursday. He could beat another biggest name in the business, Ravi Shastri, former team Director, to bag the most coveted post.
Humbled by the appointment, Kumble showed his inclusive nature at his maiden press interaction in his new, but highly responsible, role.
"I feel privileged. It (the task) is not easy but this is the time to give back to the game. I had a detailed discussion with my family about this assignment which involves a lot of travel. Along with Tendulkar, Ganguly, Laxman and Dravid, with whom I have an excellent relation, I will give my best."
Former cricketers like Sunil Gavaskar and Mohinder Amarnath welcomed the decision. Some analysts, however, are not happy with the 'one year deadline' to the new coach but they felt that he should have been given enough time.
Kumble's first assignment will be India's four-test tour of West Indies. The BCCI president Anurag Thakur said that the appointment of bowling, batting and assistant coaches will be done soon after consultations.
There are rumours that Ravi Shastri, who lost the race despite having enjoyed the back up of the Captain Virat Kohli, will be accommodated for the benefit of the Indian national side.
Kumble was among 57 candidates who applied for the position advertised by the BCCI earlier this month. The spinner, hailing from Karnataka, was included in the shortlist of 21 names and then met the cricket advisory committee – consisting of former stars Ganguly, Laxman and Sachin and the former BCCI secretary Sanjay Jagdale, acting as the committee's chief co-ordinator – in Kolkata for an interview on Tuesday.
"Kumble made a very good presentation before the committee by unveiling his vision for the Indian cricket. He will take Indian team forward," Kumble's brother Dinesh said.
Kumble played 271 one-day international matches and 132 tests. He finished as India's highest wicket-taker in Tests, and the third-highest overall, with 619 wickets. He was appointed as Test captain in November 2007. He led India in 14 matches, winning three, losing five and drawing six, until his retirement a year later.
Post-retirement, Kumble served the game as the President of the Karnataka State Cricket Association in November 2010, served as chairman of the National Cricket Academy in Bangalore and also headed the BCCI's technical committee from 2012 to 2015.