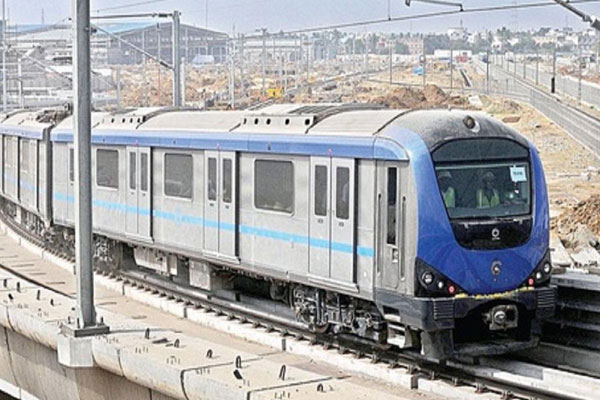 Andhra Pradesh government, which wants the Vijayawada metro rail to completed by 2018, today released a token grant of Rs 10 crore to the Delhi Metro Rail Corporation to enable it to start preparatory action on Amaravati Metro Rail Corportion (AMRC). Delhi Metro Rail Corporation, which has prepared the detailed project report for the Vijayawada Metro, is also the executing agency of the project.
Even though there has been no sanction for the project yet, Andhra Pradesh government chose to release the amount anticipating the clearance from the centre soon. A formal agreement has to be signed between the centre and state. State has requested the centre to clear the proposals for equity participation to the tune of Rs 866.50 crore and subordinated debt for central taxes for Rs 667 crore, along with giving nod to appointment of DMRC as the executing agency of the AMRC.
As the state is shifting temporary capital from Hyderabad to ViJayawada, chief minister Naidu wants the metro rail project to be taken up on war footing. Last week, DMRC invited tenders for the metro project. The works include the part design in construction of elevated viaduct( chainage km 1.338 to km 6.577) and five elevated stations namely city cancer hospital, SRR Govt. College, Sri Satya Sai Mandir, Besant Road and Railway Station East. The works also include architectural finishing water supply, sanitary installation, drainage in respect of Pandit Nehru Bus Stand- Nidamanuru corridor of Vijayawada Metro Project. In the second package (from km 6.577 to km 12.520) works include construction of elevated viaduct depot connection and six elevated stations namely Nadamanuru, Enikepadu, Ramakrishna Weigh Bridge, Prasadam Padu, Ramvarappadu Ring Road and Gunadala including their architectural finishing, water, sanitation etc.
As the paper work has begun, state today released the token amount of Rs 10 crore to the project. The question is, why the centre is still dragging its feet in giving the clearance to the project even though union urban development minister M Venkaiah Naidu assured that all rules would be relaxed to Vijayawada metro as caters to the needs of a capital city of Andhra Pradesh.