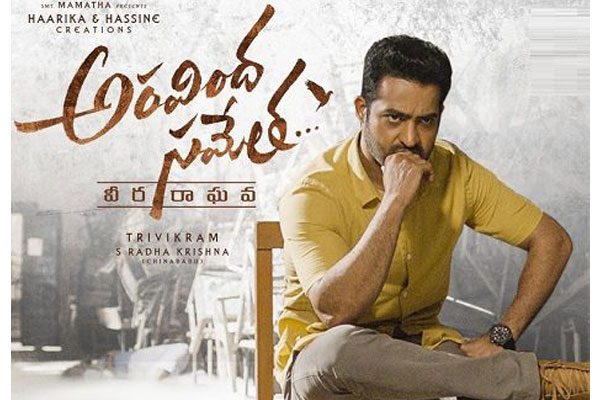 Aravinda Sametha Overseas Profit Loss Statement
Trivikram's directional film Aravinda Sametha starring Jr Ntr, Pooja Hegde in lead roles was released on October 11th 2018. Produced by S. Radha Krishna, the film has collected a gross of $2,170,395 to become 10th highest grosser of All-Time in USA. It's also the highest grosser for the hero Jr Ntr beating Nannaku Prematho which has collected a gross of $2,022,392.
Coming to Profit loss details, the film has collected a distributor share of $1,220,542 which comes down to $1,045,542 ie, 7.70 Crores INR after deducting the expenses like VPF & Publicity. From Non-USA markets it has fetched another 3.20 Crores INR, to make it a total distributor share of 10.90 Crores in Overseas. The film was sold for 11.70 Cr which means the distributor has ended up with a loss of 0.80 Crores. The distributor is able to get back his principal investment but failed to recover the expenses. The film has shown a peculiar trend of strong Day1(thursday) which generally means a strong weekend but the weekend trend was odd and quite below than the expected. It can be termed as an Above Average venture with a mere 7% loss for the distributor.
Verdict: Above Average
Note : If we account the ' Agnyaathavaasi ' compensation paid i.e. deducted for ' Aravindha Sametha ' , distributor's loss will be more ; But ideally each film has to be evaluated independently as producers may compensate in different forms in a longterm relation
| Theatre Chain | Gross | Distributor Share |
| --- | --- | --- |
| Regal Cinemas | $580,288 | $278,129 |
| Cinemark | $834,335 | $500,601 |
| Marcus | $105,239 | $52,619 |
| 8k Cinemas | $78,736 | $51,242 |
| Emagine | $91,265 | $45,632 |
| Others | $480,532 | $292,319 |
| Total | $2,170,395 | $1,220,542 |
| VPF & Publicity | | $175,000 |
| USA Share (Excluding VPF) | | $1,045,542 (7.70 Crores) |
| Other Countries Revenue | | 3.20 Crores |
| Overseas Rights | | 11.70 Crores |
| Profit/Loss in INR | | 0.80 Crores Loss |