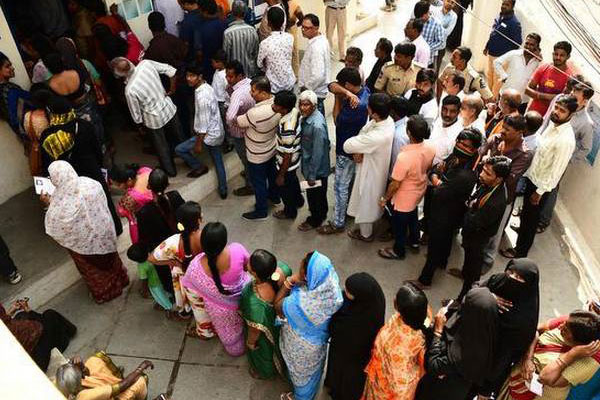 There have been discussions about very low polling percentage in Hyderabad city. Many celebrities and media houses are lambasting Hyderabad people and especially the educated urban voters, assuming they didn't turn up for polling and that is the main reason for low poll percentage in the city.
Low vote % in Hyderabad
Actually Election Commission has taken many precautions to improve polling percentage in Hyderabad. EC announced a mandatory holiday for all the institutes, organisations and even for small shops and hotels. Some of the theatres also have remained closed on the election day. But despite all this, polling percentage in the city has remained around 50%.
Other side of the coin :
Of course, urban voters need to move out of their couch and exercise their voting right. But before simply lambasting urban voters, the fact that many people in Hyderabad returned without voting as they didn't find their names in the final list – needs to be addressed. There are many people who had voted during GHMC elections but found their name missing now. Some of them even had print outs taken couple of months back, of their voter cards but yet were not allowed as their names not present in the list. Finally those people left in disappointment and left the matter there, as not everyone is 'Vijay' in 'Sarkar'.
Celebrities lambasting voters- a comment:
Some celebrities like Koratala Siva used words like "Shame on urban voters" for low vote percentage. Even some other celebrities lambasted Hyderabad voters with very rude words. That's fine, but the question is- do these celebrities have the same guts to criticize our politicians and officers for doing such injustice to voters by depriving them of their constitutional right. There are some politicians ( in same Hyderabad) used tactics and did rigging in the polls by making one person cast at least 50 votes for their party. Do these 'society conscious' celebrities can dare to criticize those politicians in the same language?
Overall:
There is a need for election reforms. In this era, where a phone SIM card is validated with fingers prints, we are still using ink on finger to avoid rigging and some are using normal spirit to erease that ink and cast multiple votes. There is a need for reforming this method. Not only this, but there are many reforms pending regarding elections . We atleast need to initiate some reform, so that nobody returns from polling booth just because his name is not found in the final list.
– Zuran ( @CriticZuran)