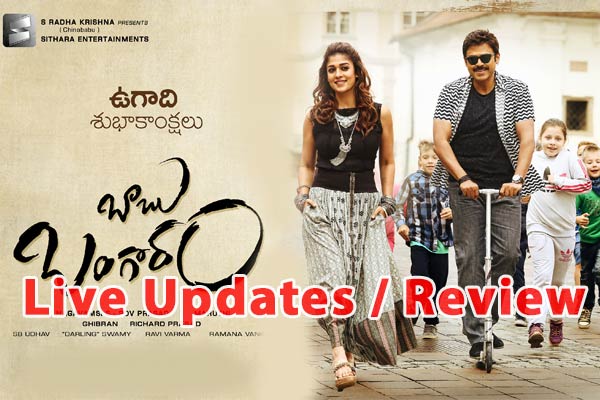 Babu Bangaram Review
Telugu360 Rating 2.75/5
Story :
'Babu Bangaram' is the story of a compassionate cop, ACP Krishna (Venkatesh). Unlike typical cops, he is very sensitive, even goes out of the way to help the bad guys as well. One day, ACP Krishna meets the gorgeous Sailaja (Nayanatara), who runs a mess. After realizing that her entire family is dependent on Sailaja's income, ACP Krishna tries to help her. He also learns that her father is a suspect in a gruesome murder case. Sailaja's father Sastry witness the murder of an IT officer, orchestrated and executed by the local MLA Puchappa (Posani Murali Krishna) and his friend mafia don Mallesh Yadav (Sampath). Typical Telugu movie plot has Sastry framed as a suspect.
Learning the Sailaja's hardship and her father's troubles with the law, ACP Krishna helps them out and brings the MLA and the mafia don to justice.
Analysis:
Director Maruthi, who was successful in developing situational comedy around the hero's characterization in his previous movies, tried to repeat the same formula. His attempt to generate comedy based on ACP Krishna's compassionate character (like the comedy with Nani's absentmindedness in Bhale Bhale Magadivoy) wasn't very effective. No proper story and mediocre screenplay do not help the movie. In earlier interviews, Venkatesh and Maruti have mentioned the movie to contain ample situational comedy. The reality is that a number of comedy scenes appear to be forced without any context. "30-years industry" Prudhvi stole the show in the first half. In the second half, Bramhanandam and Posani do their bit.
Director Maruthi didn't take proper care to establish Venki's character. Right after the interval, ACP was shown as a transformed person, from an easy-going and compassionate guy to a serious guy. And then again director, does comedy scenes on Venky.
However, Babu Bangaram doesn't test your IQ levels. It is easy going on the audience. Venkatesh and Maruti tried to create a full-fledged commercial movie, however they failed to realize that at Venkatesh's age it is really difficult to pull off. Also, there are no high points in the movie. Nayanatara's role has very few scenes and her fans will be disappointed. Posani Krishna Murali excelled in his character.
Songs:
Mostly filler songs, could have been much better. 'Mallela Vanala ..', 'Raaka Raaka vachindi…' songs which were a chartbusters before release also look very good on screen. Sonam Bajwa's special appearance item song which is also title song 'Babu Bangaram..' , in the second half is beautifully shot. 'Tikku Tikkantuu..' bit song was shot on popular TV show Jabardhast's transgender actors and may appeal to mass audience
Positives:
· Story (Wafer thin) fits Venkatesh's image
· End to end easy going movie
· Prudhvi, Posani characters
· In second half, couple of action blocks to cater Venky's action image came out well
Negatives:
· Comedy scenes failed to generate any laughter.
· Songs could have been better
· Clichéd story
· Non engaging screenplay
Verdict:
Director Maruthi missed his opportunity to make it to big league. 'Babu Bangaram' is a kind of movie which you won't regret either watching or skipping. At the box-office, movie can be a success in the B & C centers and will possibly generate a decent revenue in the A centers with the long weekend, catchy title and Victory Venkatesh's image. In overseas, prospects of this movie are relatively grim. If you don't mind a template comedy, watch it.
Telugu360 Rating 2.75/5
Cast :
Venkatesh
Nayanthara
Sampath Raj
Murali Sharma
Posani Krishna Murali
Vennela Kishore
Prudhviraj
Crew :
Story,Screenplay,Direction : Maruthi
Producer : S. Naga Vamshi , P. D. V. Prasad
Dailogues : Darling Swamy
Music Ghibran
Cinematography : Richard Prasad
Editor : S.B. Uddav
Production: Sitara Entertainments
Distributor : Haarika & Hassine Creations
Release date : 12 August 2016