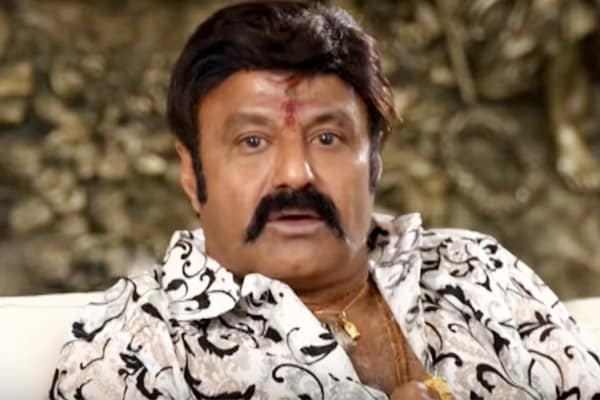 Actor Nandamuri Balakrishna fumed at the Telugu film industry for not inviting him to the meetings recently held with Telangana chief minister K Chandrasekhara Rao and Telangana minister for cinematography Talasani Srinivas. Balakrishna made sensational comments that the meeting with Talasani was held to discuss real estate dealings and it had nothing to do with the larger interests of the Telugu film industry. Balakrishna on Thursday said he was kept in the dark about the Telugu film industry meeting with Talasani at Chiranjeevi's residence. Balakrishna said he came to know about the meeting only through newspapers and TV channels.
Recently, number of producers and actors from the Telugu film industry including Chiranjeevi, Nagarjuna, Rajamouli, Allu Arvind, Trivikram Srinivas, Dil Raju, Suresh Babu, Koratla Shiva, N Shankar among others met Chief Minister K Chandrasekhar Rao at Pragati Bhavan in Hyderabad. The meeting was coordinated by Talasani. However, Balakrishna was left out of the meetings.
"I was not invited to even a single meeting. Was the meeting held to discuss real estate dealings? Am I not part of the film industry. This is because there are several differences in the film industry," Balakrishna fumed.
In his film career, spanning 40 years he has acted more than 100 films, donning a variety of roles. Balakrishna has received two state Nandi Awards for best acting. Balakrishna was the guest of honour at the 43rd International Film Festival of India. However, Talasani Srinivas Yadav on Thursday said only actors, directors and producers who were active were invited. Reacting to Balakrishna's comments, Talasani said, "We have not invited all. We have invited only those film artistes who have been active in Telugu film associations. We have invited directors, actors and producers. I have no objection if everyone is invited."
Ignoring Balakrishna, experts believe, is political as the actor is brother-in-law of Chandrababu Naidu. Srinivas Yadav, who had been Chandrababu Naidu's 'Man Friday' in the past, has been critical of TDP president and former chief minister ever since he left the TDP's boat to sail with the TRS. More than film associations, Talasani was to be squarely blamed for snubbing Balayya, experts beleive.
The fact that he was not invited is political as was evident after Chiranjeevi's brother Nagababu comments on Balakrishna. Nagababu turned Balayya's comment into a political slugfest. "Balakrishna has insulted not just the film industry, but the KCR government. Balakrishna has to apologize to the KCR government for his comments. I am asking Balakrishna to hold his tongue," Nagababu commented in a video released to the media.
Meanwhile, producer C Kalyan shifted the blame on MAA for not inviting Balakrishnna saying the responsibility of inviting the actor rested on MAA. Further, he said, "Talasani took the lead to coordinate the Telugu film industry meeting at Chiranjeevi's residence. Chiranjeevi has face value. Similarly, Nagarjuna was invited. We will invite only those people with whom works can be done. Our primary concern is that the shootings have to resume. To this effect, we invited only those people who can articulate the concerns of the industry and get the work done. We have no affiliations whatsoever to any political party. We belong to the film industry. Having said this, Balakrishna has a special place in the film industry. Balakrishna is my hero, I consider him as my brother. He should not feel insulted. There was no attempt to belittle him," C Kalyan said.
Meanwhile, actor and director Prasanna Kumar questioned why the meeting in the first place was held at Chiranjeevi's residence when all the meetings of movie artistes so far were held at the Telugu Film Chamber of Commerce. He said it was wrong to ignore Balakrishna and it was natural that the actor reacted the way he did.
At the meeting with KCR and Talasani, the Telugu film industry representatives apprised the CM and Telanagana minister for cinematography of several issues related to the industry arising out of the pandemic.
The Telugu film industry bigwigs told Rao lakhs of workers and technicians were affected as shooting activities were stopped due to the complete lockdown. Prior to meeting Rao, Tollywood's biggies Nagarjuna, Rajamouli, Allu Aravind, Suresh Babu, and Dil Raju, assembled at Chiranjeevi's residence in Hyderabad for a meeting with Talasani Srinivas Yadav. The film industry representatives expressed concern over the huge losses incurred by the industry after the shootings were cancelled due to corona virus outbreak. Chiranjeevi told the minister that lakhs of workers and technicians were robbed of their livelihood due to the ongoing lockdown. After patiently hearing the case of the Telugu film industry, Rao gave a green signal to movie shootings from June, but asked the film industry to prepare an action plan on the limited resumption of film shooting and pre-production activities by adhering to social distancing norms amidst the coronavirus-induced lockdown. It may be noted that Balakrishna had recently handed over a cheque of Rs 25 lakh towards Corona Crisis Charity for the welfare of cine workers of Telugu film industry to C Kalyan. The actor-politician also donated Rs 50 lakh each to CM relief funds of Andhra Pradesh and Telangana.