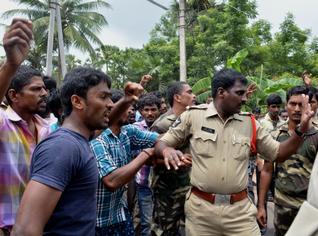 The farmers' revolt against the land acquisition by state government spread from capital region in Guntur district to neighboring Krishna district, which witnessed a violent dharna on Thursday. As the upcoming capital in Guntur district is going to pave a path to prosperity for these villages, the small and marginal farmers of Machilipatnam rural are opposing the government proposal to set up an industrial corridor in their lands. Just like the Krishna river front villages in Amaravati Capital Development area, the villagers and fishermen do not want to part with their lands come what may.
The controversy :
CM Chandrababu Naidu wants to develop Machilipatnam port into a deep water port connected to new capital Amaravati. If the industrial corridor springs up in the area, it would almost bring the port nearer to Amaravati. So to implement his plan revenue official have started acquisition process.
The villagers of these villages are hopeful that these lands would become expensive assets once the capital is developed in Amaravati area. But, port is going to shatter their dreams, which is why they have organized dharna today on National Highway No 214. Farmers of six villages- Manginapudi, Tapasipudi, Gopuvanipalem, Mekavarithota, Chinkaragraharam and Pedakaragraharam- have participated in today dharna.
The government is planning to acquire 15 thousand acres for proposed industrial corridor. Anticipating dharna by farmers, the government deployed huge police force on the National Higway No. 214. The farmers of these six villages led by YSRC leader and former MLA Perni Nani blocked the vehicular movements on the highway. What is significant is that women participated in protest in a big way.
The police used lathis to clear the traffic as farmers insisted on enforcing the dharna led to skirmish. YSRCP leader Nani was taken into custody.
According to Nani, government was using the notification issued based on the central ordinance which expired on August 31. The notification, he said, was issued on August 30. He said lands could not be taken forcibly.