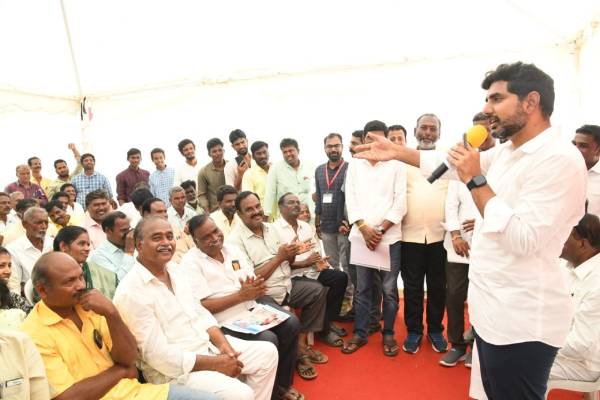 The toddy workers at Vajralapalli camp site in Puthalapattu Assembly segment complained to TDP general secretary, Nara Lokesh, on Saturday that the Jagan Mohan Reddy Government is not extending any kind of assistance to them. Lokesh is at the Vajralapalli campsite as part of his ongoing pada yatra 'Yuva Galam'.
They told Lokesh that to market illicit liquor, the toddy-tappers are being harassed by the State Government. The toddy-tappers demanded that 25 per cent of the liquor shops be allotted to them and said that Chief Minister, Jagan Mohan Reddy, who promised pension for all BC women who completed the age of 45 years has literally cheated them, they told Mr Lokesh.
The local Vaddera community members demanded that they be enlisted into the ST category as the community has over two lakh population in the combined Chittoor district. They said with the increasing use of machinery they lost employment and are migrating to other States in search of jobs. The Vaddera community demanded that a certain percentage in quarries be allocated exclusively for them.
The local Viswa Brahmin community too narrated their cup of woes to Lokesh. They said that due to the use of machinery these days they totally lost employment and that the State Government should come to the rescue of the goldsmiths. The Mudiraj wanted Mr Lokesh to take up the issue of changing them from BC-D category to BC-A.
The State Government is not even issuing community certificates to Padmasalis, they said. Rajakas too are very backward, and the State government is not allotting dhobi ghats to them and not extending any financial assistance to the community, they told Lokesh. Kurubas and Yadavas too complained to Mr Lokesh that they are being ignored by this Government as there is no financial assistance for them.
Responding to the problems narrated by these communities, Lokesh said that the BC felt real independence only during the TDP regime as maximum possible funds were allocated for the community by the then government. "I do make false promises like Mr Jagan and not even a single BC member received loans after the YSRCP came to power though 56 corporations for various communities have been set up," Lokesh remarked.