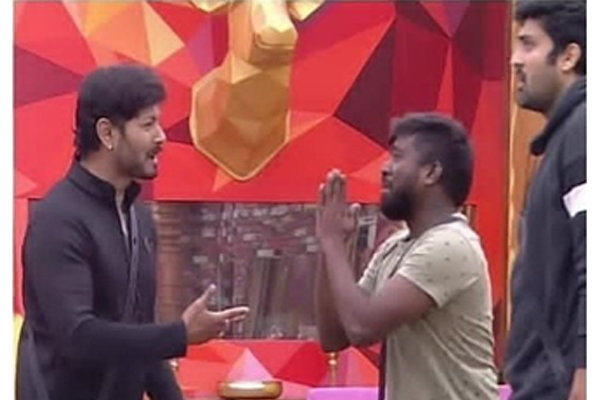 Today's Bigg Boss episode was filled with heated arguments and altercations again. Kaushal's tongue slip about the housemates referring them as dogs created enough turmoil in the house.
The issue:
Actually Kaushal asked Nani earlier that his daughter's birthday is due and if possible, send her into the house for couple of hours on that day. For this , Nani told he will do something about that but can't assure. Later Kaushal went to Geetha Madhuri and discussed about the same topic. Geetha told, they may not send the girl into the house as it may boost up the emotions of the housemate at this crucial juncture, but they may send a letter or some gift or something like that. She also added that, even for other housemates' occasions also, Bigg Boss sent only gifts or something like that but not the persons.
Kaushal's tongue slip and Roll Rida's tears
The debate intensified and at some point, Kaushal lost control and told that, "whenever I say anything , all of you (housemates) fall on me like dogs". After hearing that "dog" comments, the housemates got burst and raised voice in the topmost pitch on Kaushal. Roll Rida burst into tears while arguing and reminded Kaushal's sarcastic comments with him saying, "wash my GlASS". Kaushal defended himself saying he did not call them dogs but he just took the word 'dogs' as an example.
Samrat won the task:
After that argument, race to finale task part-2 started. In part 1, Roll Rida won the task yesterday and in today's episode whoever wins the task, will have to compete with Roll Rida to secure entry into finals. Compared to yesterday, today's episode was not as intense. Kaushal could not empty the containers of Tanish or Samrat. Roll Rida focused only on Deepthi as Samrat and Tanish helped him in previous episode. Geetha did not participate fully in the task at all. Kaushal focused fully on emptying Tanish's container but Tanish defended his container. It was surprising to see Kaushal, who spends most of his time in gym every day and looks macho, could not empty the container of Tanish. In fact, today all three contestants- Samrat, Tanish and Deepthi saved their containers from falling down whereas yesterday, containers of all three- Roll Rida, Kaushal and Geetha fell down. Samrat proved his muscle strength in yesterday and today's episode – by emptying Kaushal's container yesterday and by completely saving his container today. Finally, Bigg boss asked Geetha to check whose container has more sand, for which she replied it is Samrat's container.
Tomorrow Roll Rida and Samrat will have to compete to secure a seat in Finale. We will have to wait and see among housemates who will support whom tomorrow.