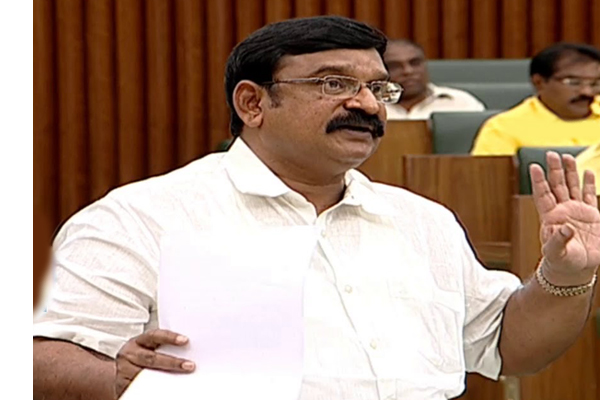 G Ravikiran
In a unanimous resolution, AP Assembly took strong objection to the BJP-led NDA government at the Centre for not conferring special status on AP and for not implementing the other promises made in the AP Reorganisation Act 2014.
As the current session came to a close, the ruling TDP took the opportunity and introduced the resolution to attack the Centre on bifurcation promises. The BJP AP leaders had no choice but to silently accept and support the resolution to avoid inviting greater disapproval of the AP people.
The Assembly made a scathing attack saying that "the BJP government at the Centre was not showing federal and democratic spirit with regard to AP promises. It should note that all parties in the country said in parliament that the special status is the right of AP people. This promise was made at the time of state division and was made by the then Prime Minister in the Parliament. Now the Centre was wrong in trying to refuse this in the name of 14th Finance Commission not recommending the same. Then how is it allowing 11 other states to enjoy tax concessions and other benefits of special status?"
TDP National President and Chief Minister N Chandrababu Naidu used the occasion to portray the BJP as the main enemy of AP now while asserting that the people would also defeat YCP and BJP local leaders for their support to the anti-AP policies of the Centre.
Naidu said: "These parties are acting like the British Raj in colonial era. They are forgetting the fact that they are part of a democratic system. Our only question is why injustice is being done to AP without a stop even four years after division. The TRS in Telangana once supported AP cause but it withdrew that support now only because of the pressure brought by the BJP leadership. This kind of negative mindset is hurting AP people now and there they are causing more damage to future generations. People will remember this"
Mr Naidu deplored that the Centre was collecting huge taxes but not passing on the consequential benefits. It is treating AP people as its slaves and not as rightful citizens.
As usual, the YCP members were absent in the session. BJP Legislature Party leader Vishnukumar Raju had no option but to say that as a person born in Andhra, he would support the resolution silently as it was pertaining to the greater cause of the state.