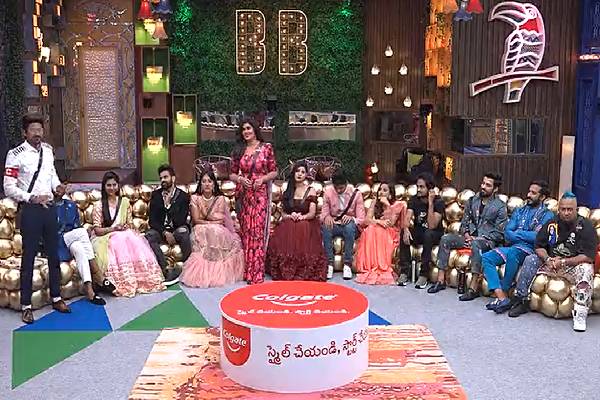 In Bigg boss 5, this weekend episode was interesting as there was fun and also there was game as Nagarjuna corrected the housemates on the mistakes they did during the week.
Vishwa is the Worst performer:
Nagarjuna asked the housemates to name one housemate as worst performer. Ravi named Priyanka as worst performer for not managing ration properly. Nagarjuna questioned Ravi's lies during the week and urged him not to swear on mother next time.
Vishwa also named Priyanka as worst performer and gave the same reason as Ravi did. But Nagarjuna reprimanded Vishwa for pushing Priyanka during the task. Shanmukh named Siri as worst performer for cheating him during the task. But Nagarjuna supported siri decision during the task.
Siri named Kajal as worst performer. Jessie, Priyanka and Priya named Vishwa as worst performer. Nagarjuna questioned Priya for warning Sunny that she will slap him. He also questioned Sunny for physically attacking Priya. But he appreciated Sunny for playing the game very effectively and becoming the captain.
Anne named Jessie as worst performer for failing in secret task. He appreciated Anne for helping Sunny become captain. Sriram named Manas as the worst performer for not playing the games individually. Kajal named Priya as worst performer as she tried to corner her during the nominations.
Manas named Shanmukh as worst player. Nagarjuna played the video that showed passiveness of Shanmukh in the house. The video was so hilarious that housemates as well as the audiences had a hearty laugh. In fact Shanmukh also accepted his laziness during the tasks. Sunny named Priya keeping in mind the fight they had during the task. But added that they both got just patched up recently. Priya gave him a flying kiss and he too reciprocated her with another flying kiss.
As per majority, Vishwa became worst performer of the week and he will go to jail after Weekend fun tasks are over.
Lobo tricked:
Lobo was sent to a separate room and asked to name 6 out of the 12 housemates, who are fake in the house. He named Kajal, Priya, Priyanka, Ravi , Anne, and Shanmukh as fake persons. He told rest of the 6 as good players. He told about each and every housemate without knowing that his statements are being telecast to the housemates who are sitting in the lawn.
Nominations:
Sriram and Kajal were saved today and rest of the housemates are still in danger zone. We need to wait and see who will leave the house this week.