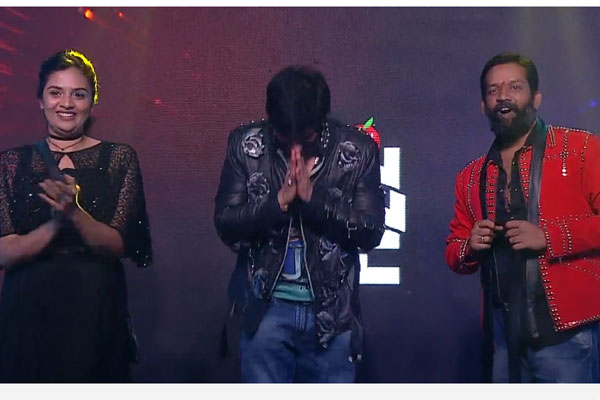 Bigg boss today continued the talent show of yesterday and 4 of the housemates qualified for next level. Those four – i.e. Ravi, Ali Reza, Mahesh and Varun performed today again and out of them judges selected Ravi and Ali for next level. Out of these two, housemates chose Ali to be top performer and he got some celebrity status in the house, as per Big boss orders. However, continuous successes seem to be going into the head of Ali as it became evident during complaint box task.
Mahesh targeted:
Bigg boss provided a complaint box and housemates can write complaints on any housemates anonymously and captain Shivajyothy need to arbitrate and resolve the issues. One such complaint was on Mahesh about provoking one housemate on other. Mahesh became emotional and asked to prove when he provoked any housemates. Punarnavi interfered and argued against Mahesh. Punarnavi has been highlighting herself only in negative emotions. She was not seen gelling well with housemates (except Vitika, Varun and Rahul) but whenever she gets a chance, she is expressing her negative opinion on other housemates very harshly. Even Ali also targeted Mahesh.
After back to back successes, Ali displays arrogance:
Later Mahesh's complaint on Ali also finally became like Ali's complaint on Mahesh. Mahesh supporting Baba bhaskar in the episode of Ali vs Baba is in sync with audience's emotion. It was because of Baba Bhaskar's efforts Ali became captain but he nominated Baba bhaskar for eviction, which Baba termed as backstabbing. During Mahesh vs Ali argument, this topic again surfaced. Ali's body language during the argument with Mahesh shows his arrogance. At some point he told, he doesn't even want to listen to Mahesh. Mahesh looked helpless as he couldn't argue as forcibly as Ali. Moreover, it looks like with back to back successes, Ali seems to have become a bit arrogant. Last week he was captain and prior to that he got immunity because of secret task. Today, he won the talent show and he is not in nominations. All this seems to have gone to his head.
Rahul and Mahesh to jail
Rahul wrote letter in which he stated he wants to clear the air between Sreemukhi and him. Sreemukhi felt very happy and even hugged him as a gesture of forgiving. After that, he started explaining his version again in which he tries to project Sreemukhi was wrong. Sreemukhi felt offended again and told she cannot forgive him. After all this complaint box episode, as per captain's feedback, Bigg boss told Rahul and Mahesh have got more complaints on them and asked captain to put them in jail.
Overall, Bigg boss episode today was engaging.
Telugu360 is always open for the best and bright journalists. If you are interested in full-time or freelance, email us at
Krishna@telugu360.com