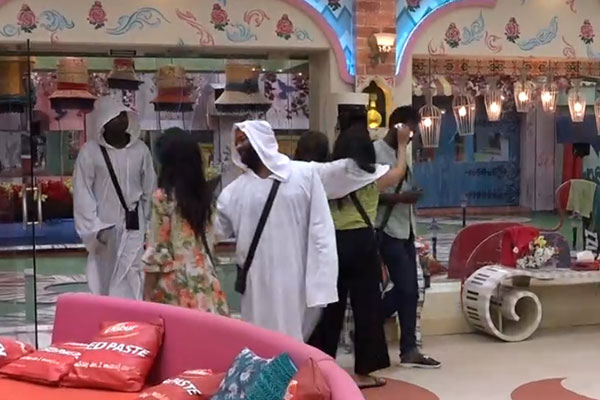 If you had followed Bigg boss Telugu, you might have seen this Ghost vs humans task in previous two seasons. Today Bigg boss gave the similar task to season 3 housemates. As per this task, house is divided into two groups – of ghosts and of humans.
Baba bhaskar, Vitika, Raul, Himaja and Shilpa are ghosts and remaining are humans. Ghosts have to kill humans to become humans and the humans that got killed become ghosts. However, killing means some specific task, for e.g. if you throw Punarnavi into swimming pool, she is considered dead or if you make Mahesh change his dress 5 times, he is considered dead, if you break an egg on Sreemukhi head, she is considered dead, if you make Shiva jyothy cry, she is considered dead and if you kiss Varuna thrice and write Varun is dead on mirror, he is considered dead. However, the catch is the humans don't know which condition makes them dead and they are just told that ghosts will try to irritate them and they should not get irritated and not even respond. Himaja could kill Sreemukhi and ghosts could kill Punarnavi.
This task will continue in next episode as well.
Telugu360 is always open for the best and bright journalists. If you are interested in full-time or freelance, email us at
Krishna@telugu360.com