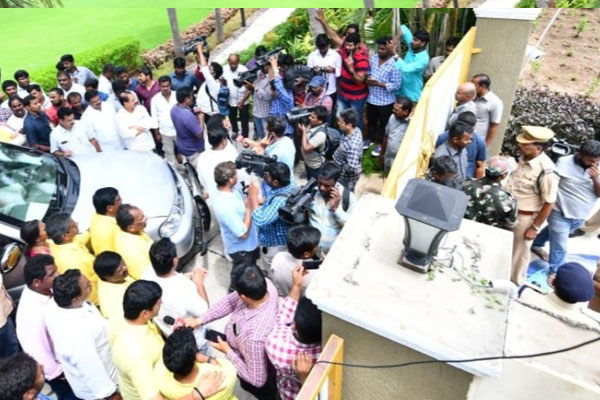 YCP Circar and AP Police arrested and immobilised almost all the Opposition leaders in the state. TDP leader Chandrababu Naidu, former ministers Atchannaidu, Devineni Umamaheswara, Akhila Priya, MPs Kesineni Nani, Kanakamedala Ravindra Kumar, MLAs Gadde Rammohan, ex MLAs, ex MPs and every top leader were arrested. Tension prevailed at Chandrababu residence with arrival of thousands of leaders and activists who picked up arguments with the police.
Police tied ropes and closed the entrance gate of Naidu home. They refused to allow Chandrababu's car to go out of the house. As a result, Naidu sat over dharna in his own car. He decided to remain in the car till the police give permission to go. He asked the party leaders to come to Atmakur whenever the police give permission to them.
On the other hand, YCP is provoking the TDP victims families instead of solving the issue. YCP leaders also gave Chalo Atmakur call to counter TDP. This led to increased tensions in the region. A kind of Political Emergency is prevailing with opposition leaders being not allowed to come out of their houses. YCP MLAs said that their government is taking action against all those who harassed people in TDP Regime. They said that the TDP victims are all paid artists.
Telugu360 is always open for the best and bright journalists. If you are interested in full-time or freelance, email us at
Krishna@telugu360.com