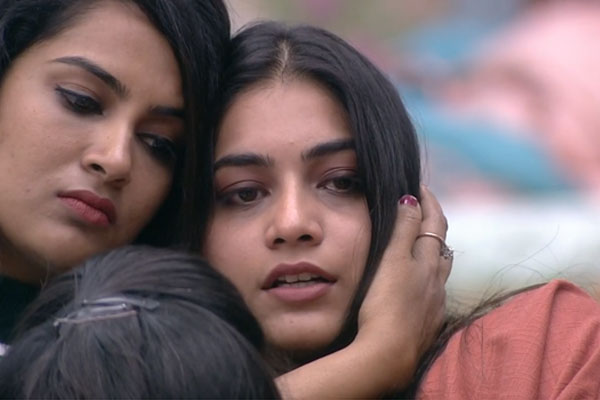 In Bigg boss, yesterday's Ghosts vs Humans task continued today as well. However, housemates gave up on this task as Sreemukhi couldn't make Shivajyothy cry. Moreover, Sreemukhi revealed the task to Shivajyothy and announced they are giving up the task. Bigg boss considered this seriously and announced that he would be punishing the worst performers.
Shoe polish task as Punishment:
Bigg boss told, Sreemukhi, Mahesh and Punarnavi are worst performers and they need to polish the shoes that were kept in garden area. They will also have to polish housemates' shoes. Sreemukhi readily agreed to the punishment as she was of the opinion she could take this punishment instead of making Shiva jyothy cry.
Mahesh says he can't do mean tasks like shoe polish and washing underwear:
However, Mahesh told, what kind of task is this and just because he is in Bigg boss house he can not do mean tasks like polishing shoes. He added, if he does this today, tomorrow Bigg boss may ask to wash underwear of housemates. Mahesh's concerns seem to be frivolous because housemates enter the house knowing that they need to do this kinds of tasks. Similar task was there in Bigg Boss -1 and Mumaith Khan and Dhan Raj did the task casually. To be frank, Mumaith Khan and Dhan Raj were bigger stars than Mahesh and they did this casually. Moreover, Himaja reminded that she washed underwear as part of task in previous weeks.
Punarnavi's childish yet arrogant nature:
Punarnavi, despite being a psychology student, has been behaving childinsh and yet displaying arrogance. She has been showing"I am Ok but you are not Ok" attitude since beginning. She gave a statement that "I will not do this shoe polish task no matter what happens and she is ready to get evicted for this". She was rude to even the housemates who were trying to console her.
Rahul's slipper shot answer to those refusing shoe polish task:
Rahul asked a simple question to Mahesh that, had Bigg boss told whoever polishes shoes fast they will become captain, you all would have run to do the task, isn't it. Moreover, he told that he earlier rode auto for couple of days just to have an experience of another profession in life. He added, had he got this punishment, he would have taken it as an opportunity to add one more profession in his life.
However, Mahesh later agreed to do this task along with Sreemukhi but Punarnavi kept nagging that she didn't do any mistake and why should she take punishment. It needs to be reminded that earlier Ravi went to jail though it was not his fault and many others took the punishment as part of the game. But Punarnavi nagging too much about this shows her mindset.