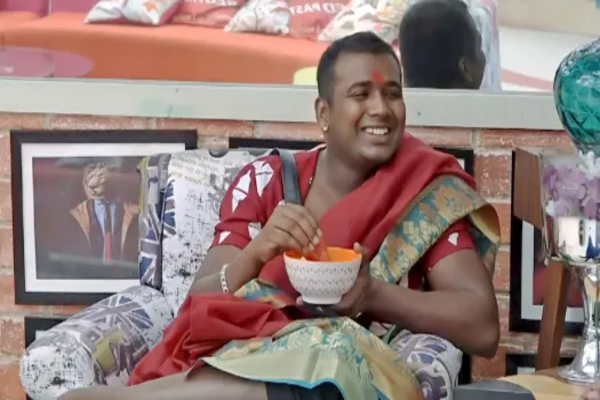 Bigg Boss Telugu season 3 completed 90 episodes and it is just 2 weeks away from the final. Even though all the family members of the housemates gave stars, Bigg boss didn't give them a luxury budget as they violated some rules and told them, they have to do one more task to win the luxury budget. Today, Bigg Boss gave the housemates a task as per which they have to enact the roles of some movie characters.
Roles:
As per the task, Baba Bhaskar will be enacting the role of Rajni in Basha movie, Sreemukhi will be enacting the role of Keerthi Suresh in Mahanati i.e. Savitri's role. Varun and Vithika should be enacting Prabhas and Anushka roles in Bahubali, Ali will be enacting Suriya of Ghazni, Shiva Jyothy will be Ganga (Jyothika) in Chandramukhi and Rahul will be Lawrence in Kanchana. Before going for actual performances, they all practiced their roles. Sreemukhi was seen asking everyone 'Nageswara Rao Garu Vachara?', which is the dialogue from Mahanati movie. Baba was seen asking everyone to enter his auto-rickshaw in Rajni's style.
Good performances:
Varun and Vithika's Bahubali episode evoked a few laughs as Vithika fell on Varun while enacting that famous scene of Bahubali 2 where Anushka walks on Prabhas's shoulders. Varun got slightly hurt and became impatient on Vithika while she and Sreemukhi were in laughs after that incident. Baba Bhaskar being a choreographer and fan of Rajni, enacted Rajni so well and his dance sequence with all housemates also was very good. Sreemukhi enacted that scene of Mahanati in which Savitri sheds tears without glycerin. But Sreemukhi gave a comic touch to this episode, by faking the tears with water from the swimming pool. No doubt, her Patas experience is coming handy for her while making this kind of spoofs. Vithika and Varun's performance of the Bahubali 2 scene was good. Even though Vithika got negativity because of some other reasons, she always gave 100 percent in this kind of tasks.
Average performances:
Shiva Jyothy's performance as Jyothika was just average and it became repetitive as she had been saying the same dialogue throughout the episode. Ali's Ghazni role also was just average as he couldn't do any innovation in his role. Rahul's Kanchana performance also just ok. In fact, Ali and Rahul were never comfortable in this kind of skits throughout the season.
Overall, it was an enjoyable episode.