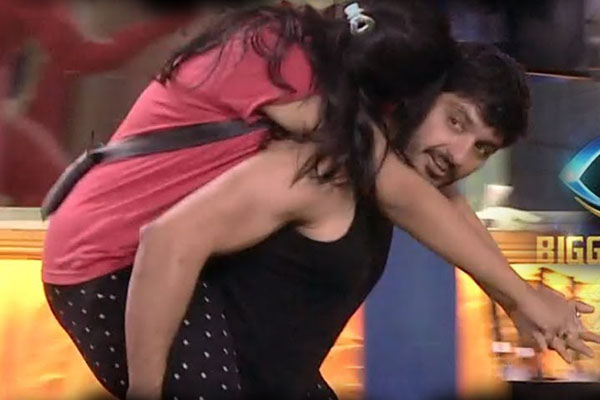 Usually, Thursdays and Fridays are for captaincy tasks in the Bigg boss house. The audience is generally curious about captaincy tasks as they want to see who will be safe next week. Moreover, most of the time, captaincy tasks will be physical tasks that bring out the stamina of the contestants and it will be fun to watch such tasks in the house. However, there will be no captain for the next 4 weeks in the Bigg boss house, as already announced. So there will be no captaincy task in the house for the next 4 weeks. Sreemukhi will be the last captain of Bigg boss season 3 Telugu. As there was no captaincy task, the episode was a bit boring.
Bigg boss's birthday celebrations:
Just for a change, Bigg boss celebrated his own birthday in the house. In fact, this celebration started in the previous episode itself. Bigg boss annoyed the housemates by sending lots and lots of birthday cakes into the house and asking the housemates to eat off all those cakes. At some point, the housemates were really fed up eating the cakes and it was fun to watch the housemates getting irritated on Bigg boss on his birthday.
Boring and haphazard tasks with no continuity:
Bigg boss also asked the housemates to draw the picture of Big boss as per their imagination and explain the picture. All the housemates drew the pictures of Bigg boss as per their own imagination and some of those pictures were funny. Bigg boss also asked the housemates to write lyrics and compose the song on Bigg boss journey. Rahul, with the help of housemates, composed the song. Later, Bigg boss gave to the housemates, the task of using a particular smartphone and make some videos. That entire episode looked like a long advertisement and was boring to watch. Later when the videos were made, Rahul's song was added to those videos and it was shown to the housemates.
Why captaincy task removed?
The audience do not understand the rationale behind removing the captaincy position in the house for the next 4 weeks. In season 1 and season 2, captaincy position was there till the last week. Some opine that Bigg boss makers want to take full control of whom to eliminate in upcoming weeks and that's why captaincy position was removed.
We will have to wait and see whether Bigg boss will come up with some interesting tasks in the upcoming Thursdays and Fridays.