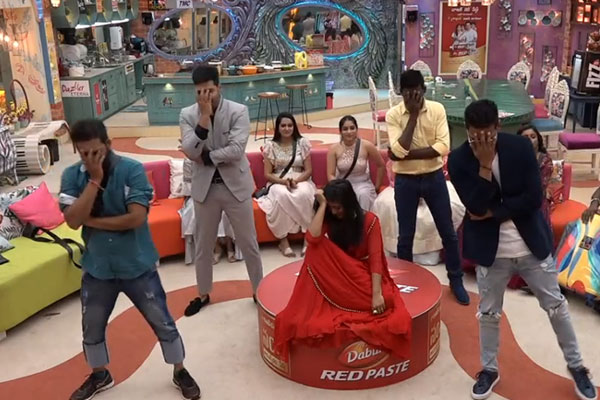 After somewhat serious episode yesterday, today's Bigg boss episode started on light note. Nagarjuna gave some skits to perform to the housemates today.
Funny skits on Funday:
Sreemukhi, Shilpa shetty, Varun and Mahesh did a small skit in which Sreemukhi is a bride who has a male voice. Shilpa is bridegroom's mother, Mahesh is the bridegroom and Varun his friend. Sreemukhi displayed her sense of humor during the skit that impressed Nagarjuna.
Later Rahul, Punarnavi and Baba Bhaskar did a skit in which Punarnavi loves Baba while Rahul gets frustrated. Next skit was done by Ravi, Mahesh and Himaja. Himaja is waitress in hotel who tastes food ordered by customer. Ravi is customer who fumes at her while Mahesh flirts with her. It was also entertaining skit. Next skit was done by Sreemukhi, Vitika and Baba in which Vitika is foreigner visiting Tirupati while Sreemukhi, a tourist guide, tries to cheat the foreigner Vitika and Baba is police constable. It was also good skit. Overall, Sreemukhi's male voice skit was chosen as best skit.
Meanwhile Himaja cooked a special dish with egg and bread and sent it to Nagarjuna to taste. It seems the dish didn't taste good and Nagarjuna made fun out of this and advised her to learn cooking from Baba Bhaskar.
Jingles:
Later Rahul sang jingles about each housemate separately and they enacted or danced for the song. These songs were written and composed by housemates themselves. It seems they had already practiced performing these jingles. The songs were written to suit the image of the contestant for e.g. Punarnavi's attitude, Shiva Jyothy's crying and Ravi's good boy nature were highlighted in these jingles.
Shilpa evicted today:
Himaja got saved yesterday itself. Sreemukhi, Mahesh and Punarnavi got saved today. Shilpa, who entered the house as wild card, had to leave the house within 2 weeks after entry. She termed her stay in Bigg boss as short but sweet experience. Even though she didn't do anything wrong that angered audience, she could not make any impression on audience as well. Moreover, other housemates who are in nomination zone had already built some fan-base while Shilpa couldn't get opportunity to build any fan-base.After coming out, she thrown big bomb on Mahesh. As per this, he has to jump into pool every time dog barks in the house when any housemate sleeps during the day.
Click here: Bigg boss tidbits: Wild card entries failed to impress in season 3
Overall, it was good episode but there was not much suspense on eviction as audience could predict exit of Shilpa.
Telugu360 is always open for the best and bright journalists. If you are interested in full-time or freelance, email us at
Krishna@telugu360.com