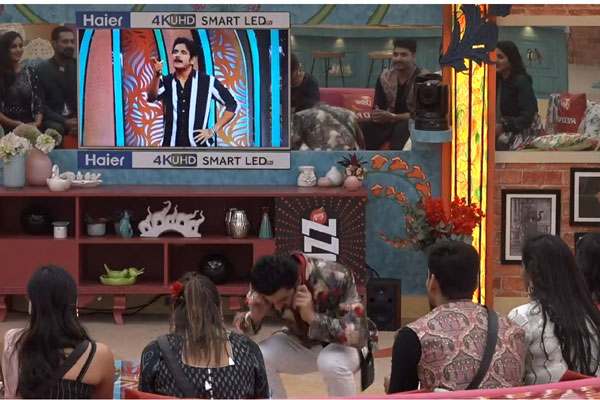 Bigg boss season 3 Telugu is garnering huge viewership and STAR MAA is currently ruling the roost in Telugu channels. Nagarjuna's hosting has been superb and he proved he is king of hosting indeed. However, till date, the audience have seen Nagarjuna's hosting in entertainment and easy episodes but today he shown serious angle in him today and the way he chided housemates who misbehaved or who did wrong things during last week earned him huge respect among audience.
Rahul:
As everyone knows, captaincy task in Bigg boss show during last week turned violent and Ravi, one of the housemates got injured. Following this injury, Bigg boss cancelled the captaincy task. It is known news that Sreemukhi who was acting thief during the task used dumbbell to break the chest containing money. As per her advice Ravi tried to break the glass with hands and it cut his hand. Following this incident. Rahul called Sreemukhi as 'Faltoo' and told she should better go and do anchoring rather than giving this kind of ideas. Nagarjuna chided Rahul for using the word Faltoo and also insulting Sreemukhi's profession.
Vitika:
This was another interesting bit. During the task when Ravi broke glass and cut his hand, Vitika didn't bother about the injury and focused on winning the game by taking the maximum money she could take. Even though Varun was showing concern on Ravi, she forced him to safe the money first. After saving her money, she came out and cried for Ravi and cleverly highlighted that it was Sreemukhi's mistake that caused this injury. Nagarjuna initially appreciated her for her concern on Ravi and she felt happy as all housemates clapped. Later Nagarjuna showed the videoclip of Vitika saving money first that put her into extremely embarrassing position. The way Nagarjuna embarrassed her by showing the video clip without shouting at her appreciated by audience a lot.
Ali Reza and other housemates:
Nagarjuna chided Ali Reza for his behavior towards Himaja during captaincy task. It is known news that Ali trying to put his hands in Himaja's pocket during the task got lot of criticism. Moreover, he shouting on her, attacking personally despite she apologizing without her mistake also made audience sympathize with Himaja and hate Ali. Nagarjuna chided him for same reason and even told he should have common sense on how to behave with woman contestants. Nagarjuna also pointed all other housemates, except Tamanna, maintained silence in this issue and did not support the woman contestant. He appreciated Tamanna for standing for Himaja.
Tamanna Simhadri:
Nagarjuna chided Tamanna for insulting journalism profession during her conservation with Shivajyothy. She told that journalists are also like actors and they also act for money. Nagarjuna reminded Tamanna that many journalists supported her as activist and her activities. She apologized to journalist community.
Punarnavi and Baba Bhaskar:
It is known news that Punarnavi showed her negative attitude during the nomination process and displayed "I am OK you are not OK". Nagarjuna gently reprimanded her for the selfishness she showed. He also gently scolded Baba Bhaskar for not standing up and saying to someone that you are doing wrong when they did wrong.
Overall:
Overall, even though Nagarjuna played some games after all this bashing, audience remember his bashing part more than the games part . Audience felt happy that Nagarjuna did not hesitate to lambaste the housemates when they crossed line. In fact this episode earned more respect for Nagarjuna as host among Bigg boss show fans.