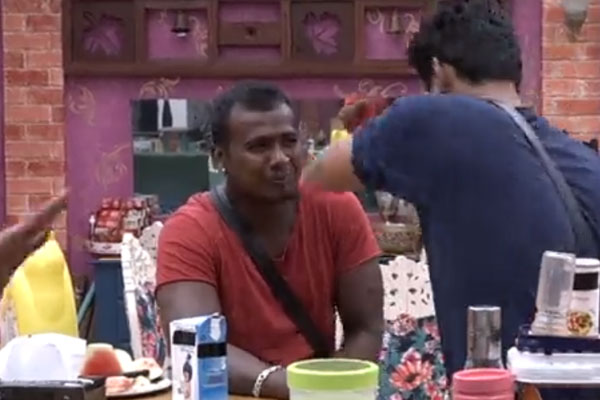 Ticket to the Finale task is completed and Rahul becomes the first contestant to reach the finals in Big boss season 3 Telugu. as he got the highest percentage in the task to finale. In fact, luck favored Rahul as Ali, who was the topper initially, got disqualified.
Ali disqualified from Ticket to Finale:
Yesterday, Baba vs Rahul's task turned violent and Ali used all his muscle strength against Baba. Bigg boss warned Ali for being violent in the physical task and yet he repeated the same mistake. Ali seems to have mistaken that physical tasks in Bigg boss are a show of strength but it is as much as winning the task as much as winning the hearts of people. Finally Bigg boss announced that Ali is disqualified from the 'Ticket to Finale' task and that became an advantage to the second-best contestant Rahul. If Ali had decided to not play the game at all, he has chances of reaching the finale.
Sreemukhi lost against Rahul because of bad luck:
In the next task, which was played between Rahul and Sreemukhi, Bigg boss gave them dominos and whoever arranges the tallest domino will be the winner. Other housemates can help the contestants by supporting them or by spoiling prospects of other contestants. However, housemates played a fair game. Sreemukhi did not take help from others and arranged the dominos. But bad luck spoiled her prospects as a wind disrupted the dominos of Sreemukhi just before the buzzer.
Sreemukhi was seen disappointed and saying luck never favored her and whatever she gets, she has to get it through hard work.
Sreemukhi won in the next task as Jyothi failed to understand the task:
The next task was between Sreemukhi and Shiva Jyothy and they have to arrange the blocks as a pyramid and save them from being fallen. Shiva Jyothy focused on saving her blocks and missed the word 'pyramid' and arranged the blocks like a cube while Sreemukhi arranged the blocks like a pyramid. So, Bigg boss announced that Sreemukhi is the winner in this task.
Except Rahul, all housemates in nominations:
After the task, all housemates except Rahul got nominated for this week's eviction. Later, Bigg boss called Rahul into the confession room and gave him the ticket to finale. Later, the housemates were seen cracking jokes about the entire process, especially about Ali getting disqualified at a crucial juncture. Ali was seen saying he realized his mistake and requesting the audience to vote him
We will have to wait and see who will miss the Finale in this season.