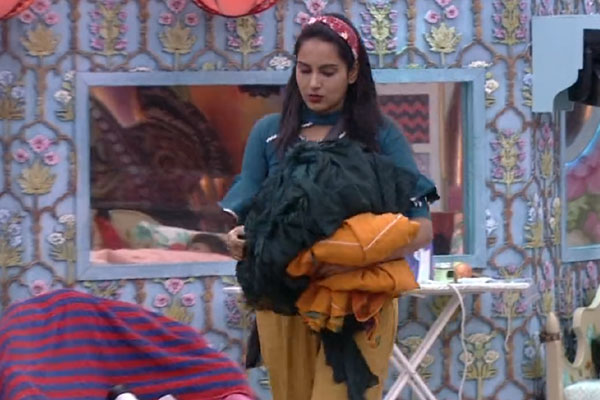 Bigg boss gave a shocker yesterday to audience as well as Rahul through fake elimination. The episode was a blockbuster as audience were confused when Nagarjuna announced his eviction and stayed glued to the channel to see what exactly is going to happen. As per the latest reports, Rahul will not enter the house immediately and he will be in secret room for couple of days. However, one housemate needs to get evicted this week and as per reports, it is Himaja, who will leave the house today.
During telephone booth task, Himaja was saved by Varun Sandesh as he laid in the tub filled with cow dung mixed water to save her from nominaions. However, Vitika as captain finally nominated her for eviction. When Mahesh asked Himaja to save him from nomination, she agreed to help him by giving away all her dresses and makeup items. However, when Bigg boss asked Vitika to check, it was found that she did not give away all items. She told she forgot those items. However, later she told Vitika that she did that intentionally to send Mahesh into nominations. It seems this made some audience not vote for her. So, if reports be believed, she will be exiting house today.
However, her fans are saying that they will stop watching Bigg boss if she gets evicted. Some websites also, for reasons known only to them, promoting Himaja Reddy even though she is not consistent in the house. They are even questioning how can Vitika nominate someone who was saved by her husband. We will have to wait for few more hours to see who will be exiting this week.