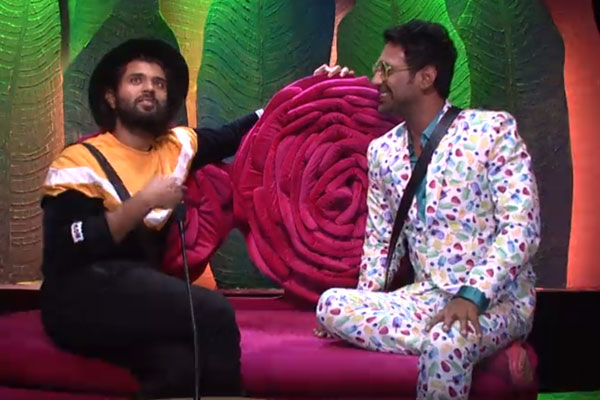 With just one week left for the grand finale, Bigg boss season 3 is going on full swing and making audience glues to the TV sets. The weekend episodes are even more enjoyable. Today there were some special guests in the show.
Vijay Devarakonda's 'Meeku Maatrame Cheptha' game:
Youth icon Vijay Devarakonda joined the house today as a guest. he joined the show during Bigg boss season 1 and 2 also. This time, Nagarjuna and Vijay Devarakonda played a game with the contestants with the theme of 'Meeku Maatrame Cheptha (Will tell only to you)'. Nagarjuna told the contestants that there are six guests in the house today on the occasion of Diwali and each of the housemates will meet one different guest while there is only one guest i.e. Vijay Devarakonda in the confession room.
Sreemukhi got shocked and pleasantly surprised to see Vijay Devarakonda. Vijay asked Sreemukhi to tell one secret that nobody knows. Sreemukhi funnily told that she wanted to eliminate Baba from the show. When Rahul met Vijay, he asked Rahul to tell one secret and then he told that Punarnavi bit him hard with her teeth once. In fact, it was a secret to the audience as well as it was not telecast. Varun told Vijay that, his friends used to call him 'Varadachari' in childhood as he used to spit a lot while talking. Shiva Jyothy spoke to Vijay about Sreemukhi and Baba told that he wanted to start choreography as soon as possible. Ali Reza suspected that it could be the same guest i.e. Vijay D for all the housemates, which is actually true.
Vijay Devarakonda, Tarun Bhaskar, and two other actors – Abhinav and Naveen joined the show.
Shiva Jyothy was the first contestant to join and last contestant to leave the house:
As expected, Shiva Jyothy is eliminated from the show this week. In fact, she is in the house only because she avoided nominations for several weeks. Even though she attracted the audience with her emotions, later, the way she shed liters of tears for silly reasons irritated them a lot. Sreemukhi was seen crying a lot after knowing her eviction, probably because they expected Ali to leave this week. She told that she had 90% good memories in the house and only 10% bad memories. When Nagarjuna gave Shiva Jyothy an option to garland flowers to one housemate and garland thrones to others, she chose Srimukhi to garland with flowers.
Next week will be the grand finale of Bigg boss season 3 Telugu.