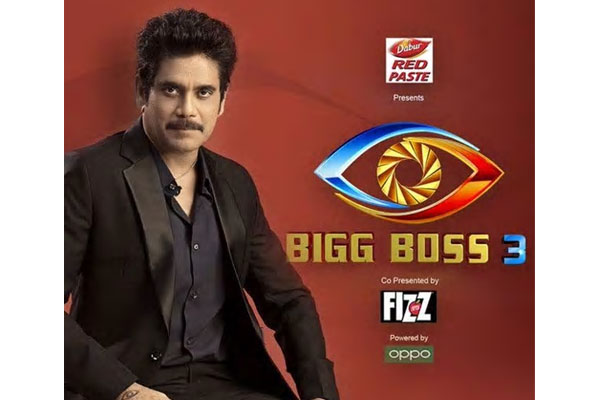 Finally, the show started. Even though there were some speculations that show might get postponed, the show started as scheduled. Nagarjuna's hosting skills is already known to Telugu audience through the show like Meelo evaru Koteeswarudu.
Show started with Nagarjuna clarifying his earlier statement that he didn't like to be confined in the house like this for 100 days. He also gave clarification that this is completely family show. He also appreciated previous hosts NTR and Nani. Later, he entered into house to introduce it to audience. While earlier hosts NTR and Nagarjuna entered alone into the house, Nagarjuna was received with dances of beautiful ladies who are already in the house.
Bigg Boss 3 participants list is as below:
1. Anchor Shiva Jyothi alias Savitri of Teenmar
She is anchor for popular Bithiri Satti's Teenmar program in V6. Her anchoring in Telangana accent is huge success and she had very good fan following. Many audience call her 'Akka' and even Nagarjuna called her as 'Akka' teasingly.
2. Serial actor Ravi Krishna
TV actor Ravi Krishna, who became popular with serials like 'Varudhini Parinayam' was second contestant into the house.
3. Dubsmash star Ashu Reddy
Ashu Reddy is a social media star who got famous on Instagram. She got huge followers due to her similar appearance like the Indian Actress Samantha Akkineni and dubsmashes did by her. She is born and brought up in US and acted in movie Chal Mohan Ranga.
4. TV9 Jaffer
Jaffer is popular anchor working in TV9. His Mukhamukhi interview program was big hit and at times created lot of controversies.
5. Himaja:
She is also well known face for TV audience. She acted in brief roles in movies like Mahesh's Spyder, Ram Charan's Vinaya Vidheya Rama, Sathamanam Bhavati etc. She got fame from the highly successful TV serial in ZEE Telugu 'Konchem Ishtam and Konchem Kashtam' couple of years back.
6. Rahul Sipligunj
He is singer who became popular through youtube. Especially his folk songs were huge hits. He worked as singer in Tollywood for movies like Dammu, Racha, Eega, and Chal Mohan Ranga (Peddapuli song).
7. Rohini
Rohini is TV actress and she became popular with TV serial in ZEE Telugu 'Konchem Ishtam and Konchem Kashtam' in which another contestant Himaja also acted. She used her famous dialogue in that serial 'Maama' on Nagarjuna.
8. Choregrapher Baba Bhaskar
He is renowned choreographer in Tollywood as well as Kollywood and became popular with Dhee show in ETV.
9. Punarnavi
She is Tollywood actress who became popular with her role as second heroine in Raj Tarun and Avika Gor's Uyyala Jampala movie.
10. Actress Hema
She is very popular actress and known for her comedy roles in Trivikram movies like Athadu and Malleeswari.
11. Ali Raaza
He is TV actor and acted in Telugu movie Dhruva as one of the friends of Ram Charan.
12. Mahesh Vitta
He is comedy actor and became popular with movies like Nene Raju Nene Mantri, Meda Meedha Abbayi, Samantakamani, Chalo and Krishnarajuna Yuddham.
13. Anchor Sreemukhi
She is very popular anchor and did the highly successful show Pataas. She is known for her excellent comedy timing and energy. Her entry into the house infused lot of energy among other housemates too.
14& 15 Varun Sandesh and Viteeka
Happy days and Kothabangaru lokam hero Varun Sandesh is participating in this show along with his wife Vineeta. She also acted in Telugu movies.
Overall, the composition of participants is similar to previous season. While Bigg boss 2 had common man category, this season has a married couple in the house. As Nagarjuna' has experience in hosting TV shows, in first episode itself he looked to be at ease and comfort. We will have to wait and see how successful will be this show.