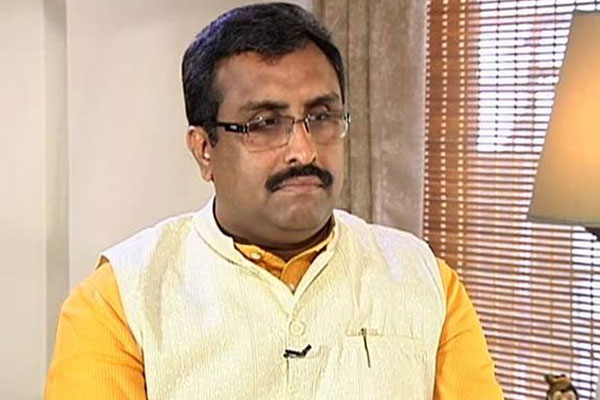 BJP general secretary Ram Madhav is now in the eye of a growing political controversy. Did he say that BJP would work with other like-minded parties to defeat TDP in AP at any cost? Did he confirm the worst fears of TDP about what BJP actually stands for?
TDP's new slogan is that BJP stands for Bharatiya Jagan Pawan group.
TDP leaders are now using Ram Madhav's visit to support their argument that BJP, Jagan and Pawan have jointly begun covert political operations in AP. Though they have no outward open electoral alliances, the three parties were only pursuing a common goal.
It is understandable that TDP leaders are very eager to create a strong impression in the minds of AP people about alleged hidden agenda of BJP in association with Jagan and Pawan.
Ram Madhav recently addressed a meeting of the BJP party state leaders held at Kakinada in East Godavari district. It was such a closed-door meeting that media was not allowed to cover it. But as usual, the contents of his speech were leaked and published in sections of press.
Ram Madhav was stated to have allocated a major portion of his speech to highlight the need for preventing Chandrababu Naidu from coming back to power in 2019 elections. During the course of it, he dropped enough indications to the party state leaders that they should be ready to make any sacrifice in order to work with other anti-TDP parties.
This has become a point over which TDP leaders are making a lot of noise so as to establish further proof of BJP's secret understandings with Jagan and Pawan. In the words of TDP official spokesperson Panchumarthy Anuradha, the BJP's true intentions have been exposed after Ram Madhav's visit. In her opinion, the people will now have no doubts about the BJP, Jagan and Pawan partnership.
Is BJP sending out a message to AP people that there will be no development and no fulfillment of promises like special status if TDP is repeated in the state? Political parties always go after their own agenda which is to strengthen their party. It is because they are political parties and they have lesser concern for anything else.
It was YCP which kept the demand of special status alive and more vigorous among people from the beginning. TDP went soft on this issue as long as it was friendly with BJP because of BJP's clear stand that special status would not be possible and tenable for AP. Now, YCP walked into its own trap by being unable to reverse its stand on special status. Even if it has some inclination to join BJP, it would not be possible at this juncture because both parties have diametrically opposite views on the subject.
These are the exact reasons why BJP top leaders like Ram Madhav are avoiding any talk of alliances in AP. But they are all talking of working with other like-minded parties. This is a matter of concern to some extent for TDP leaders and also a matter of joy to a large extent.
The absence of any scope for a strong open alliance between BJP, Jagan and Pawan is turning out to be a great advantage for TDP. But will the TDP leaders be able to translate into electoral advantage?
Whatever be the future outcomes, TDP leadership is indeed making all out efforts to push BJP into a corner in AP politics with no chance to have a good connect to the people here. It is anybody's guess as to what deeper strategies will be used by BJP in the coming days.
The alleged amassing of wealth by CM's son Nara Lokesh, corruption in the name of Janmabhoomi Committees and sand-liquor mafias would be the issues that BJP and Jagan would focus on to nail TDP. These are the issues that the ruling TDP leaders are least bothered about. They strongly feel illegal wealth and corruption are no longer big issues. If they are serious issues in public eye, then it is Jagan and his secret partners like BJP who will suffer the most considering illegal assets cases against Jagan.
Every opportunity is being used by TDP election team to increase the distance between the AP people and the opposition parties. That the Congress party suffered humiliating defeat in 2014 election was a big lesson in itself. The AP people were very angry against all those involved in state separation. Now, TDP is to a large extent successful to expose that BJP is causing greater harm than what Congress did to AP in 2014.
In the absence of any alternative, BJP leaders are exploring ways to remain close to anti-TDP parties and thereby seize every chance in the post-poll scenario.
AP people are not taking kindly to the politics of convenience played by national parties. They think twice before they believe any party in present political mood.
G.Ravikiran
Telugu360 is always open for the best and bright journalists. If you are interested in full-time or freelance, email us at
Krishna@telugu360.com