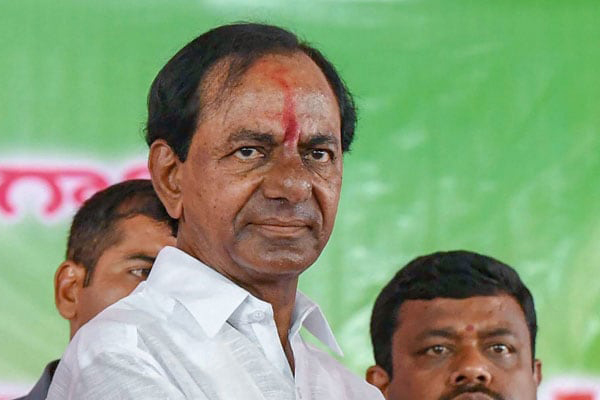 Is BJP government at the Centre attempting to topple one-year old TRS government led by K Chandrasekhar Rao in Telangana in the New Year 2020?
The moves being made by BJP's central leadership for the past few months are leading to suspicion about the 'actual intentions' of BJP.
The appointment of Tamil Nadu BJP president Tamilisai Soundararajan as new Governor of Telangana in September replacing ESL Narasimhan is understood to be part of BJP's master plan to destabilise and topple KCR's government.
Tamilisai who remained calm in the first month as Governor in September started playing 'active role' in the second month now by intervening in the issues concerning the state government directly.
On Thursday, she summoned transport minister Puvvada Ajay to Raj Bhavan to brief her on TSRTC strike and progress of talks with RTC unions.
She also called for an emergency meeting of vice chancellors of seven universities in Telangana at Raj Bhavan and expressed anger at the way VCs were working in a negligent manner.
She directed VCs to put pressure on state government to secure matching grant for RUSA funds sanctioned by the Centre.
The governor is slowly trying to take control of the state administration and project KCR's government in poor light and establish it as an 'inefficient government'.
It is learnt that the governor will become 'hyper active' in the next two-three months and pose serious challenges and troubles for the KCR government politically and on administration front.
PM Narendra Modi and BJP national president Amit Shah are reportedly are of the firm belief that the time is right to topple TRS government, which became weak due to internal feud among ministers, TRS MPs, MLAs and KCR losing support of students, employees and all other sections in Telangana due to his 'dictatorial attitude'.
They feel that no one in Telangana will oppose dismissal of TRS government and come to the streets demanding restoration of KCR as CM as he lost the support and sympathy of all sections in Telangana with his arrogance.
The BJP central leadership feels that TRS will lose upcoming Huzurnagar Assembly bypoll which will weaken KCR and TRS further and expects the TRS government to face severe anti-incumbency in the next two-three months in New Year 2020.
The BJP is waiting for an appropriate time in 2020 to topple TRS government by engineering a split in TRS with disgruntled ministers, TRS MLAs and MPs.
It remains to be seen how BJP's master plan will unfold in Telangana in the coming days.