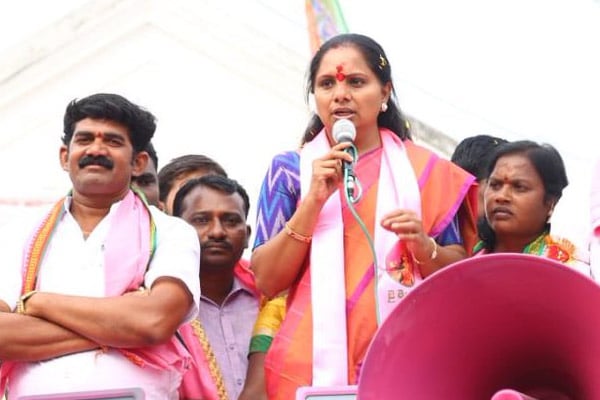 Why BJP didn't mention Turmeric Board in its manifesto, questions Nizamabad sitting MP Kalvakuntla Kavitha, while asserting that only TRS can achieve it for the turmeric farmers. BJP had promised turmeric board in its recent Armoor public meeting but ignored to include in the manifesto, that's why we call it as Bharatiya Zhoota Party, criticizes Kavitha.
"TRS party has been fighting for minimum support price for turmeric and red jowar and this is in the purview of the Centre. Prime Minister Narendra Modi-led NDA government failed to deliver the demands of farmers. That's why Telangana chief minister K Chandrashekhar Rao-led the TRS government has introduced Rythu Bandhu and Rythu Bima schemes to support farmers financially by extending farm investment and taking care of families after the death of the breadwinner. Several BJP leaders and chief ministers took part in the poll campaign in Telangana and promised several things including turmeric board. What happened now. There's no mention about turmeric board in the BJP manifesto. How can we believe this zhoota party? Where's Ram Madhav, who spoke many things about BJP. It seems he also forgot the issue of turmeric board. I once again assure the farmers that only TRS can achieve turmeric board," said Kavitha.
Kavitha further expressed concerns over the easing growth rate of Indian economy, while finding fault with BJP government as RBI governors fleeing every two or three years. Further, the BJP government ignored Telangana in developing the Ramayan circuit in the tourism development plan. "I demand the Centre include Bhadrachalam and Jhatapuram in the Ramayan circuit," maintained Kavitha.