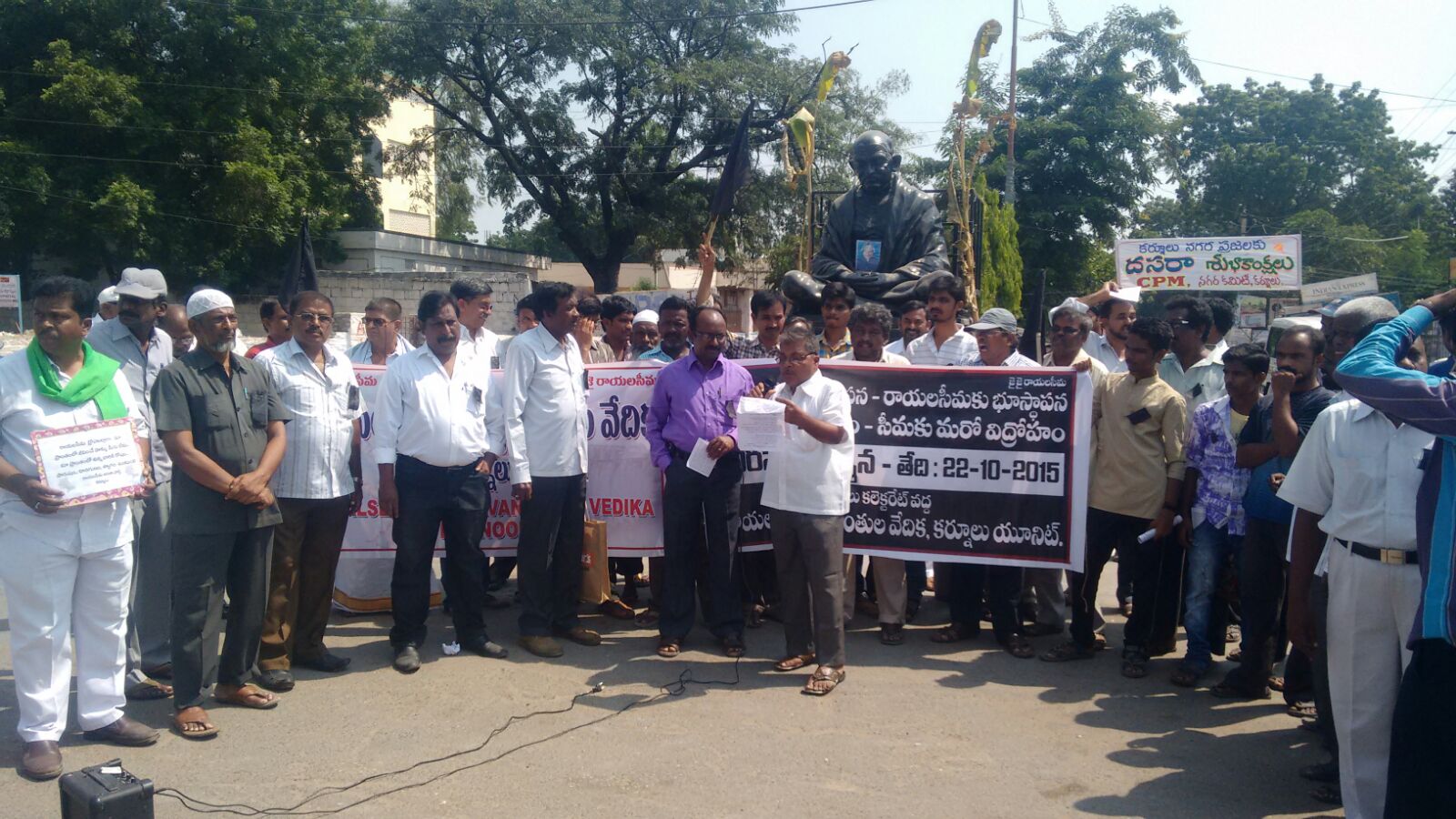 Rayalaseema Vidyavantula Vedika, a forum of intellectuals from Rayalaseema, today, observed black day  protesting the building up of state capital in Andhra region against the spirit of Sri Bagh pact reached between Andhra and Rayalaseema leaders, as a  precondition to demand separate Andhra state from Madras state. The leaders also burnt the copies of GO No 121 issued recently by the Irrigation department which, they said,  would undermine the interests of Rayalaseema.
As per the Sri Bagh agreement, the capital of Andhra state,  which was restored following the division of Andhra Pradesh in 2014, should be located at Kurnool,  the leaders demanded. The leaders staged a dharna opposite Kurnool collectorate and vowed to intensify their agitation demanding the capital be located at Kurnool. They protested the laying of foundation stone for capital city at Amaravati and opposed the Prime Minister Modi's participation in the program which according to them had no people's approval.
They deplored that the present government, instead of assuaging the hurt sentiments of the region, was perpetuating the injustice being meted out to the region.
The leaders cited the recent GO (No 121)issued recently to show how the government was planning to divert Krishna water to Nellore district through Kundu river from Pamulapadu village in Kurnool district. They said the GO was a clear provocation and indicative of government hostile attitude towards Rayalaseema. Region's leaders Somasekhar Sarma (noted writer), Ravi Prakash (Rayalaseema JAC), Raghava Reddy (Rayalaseema Vidya Vantula Vedika), Bojja Dasarath Rami Reddy (Rayalaseema Sagu  Niru Sadhana Samiti),
Pinaka Pani (Virasam), Subbarayudu (Kula Nirmulana Samiti) Munemma (mahilala Hakkula Samiti) etc participated.