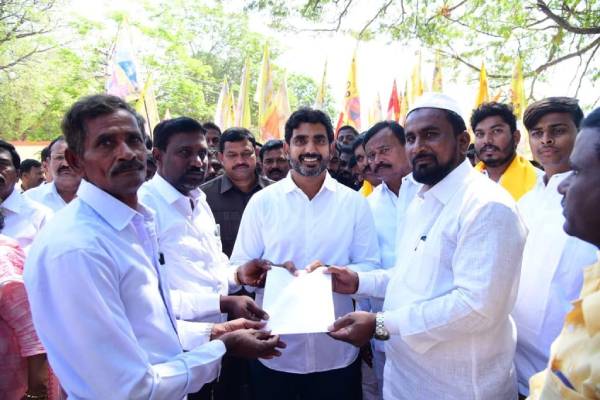 After listening to the problems being faced by the brick kiln labourers at Mallapalli in Penugonda Assembly segment on Tuesday during his Yuva Galam pada yatra, TDP general secretary, Nara Lokesh promised them that soon after the TDP forms the government brick-manufacturing will be recognised as a cottage industry and all the facilities will be provided to the labour.
Brink kiln plays a crucial role in the construction sector, Lokesh told the labourers and assured them that once the TDP is back into power within no time permissions will be given to transport the necessary material from the local ponds. Also, loans on subsidy will be sanctioned to the brick kiln industry to build necessary sheds, he said.
At Gummayyagaripalli campsite, teachers and other government employees met Lokesh and complained to him that Jagan Mohan Reddy, during his pada yatra as the leader of the Opposition promised to do away with the Contributory Pension Scheme (CPS) but after becoming the Chief Minister he forgot the promise made to them. Besides, those who are fighting for their rights are being harassed, they informed Lokesh.
Strongly responding to them, Lokesh observed that the Jagan Mohan Reddy Government is adopting a suppressive attitude towards those who are fighting for their rights. In fact, in the whole country, Jagan takes the credit of drafting teachers for security duty near liquor shops, he remarked.
The State Government that is unable to pay the salaries of the employees on time is subjecting them to various kinds of problems, Lokesh stated. The TDP government, led by Chandrababu Naidu, is so great that Pay Revision Commission was implemented to the employees with 43 percent fitment, he pointed out. He promised to fulfil all the genuine demands of the government employees once the TDP is in power again.
At Palasamudram Cross, Lokesh interacted with Backward Classes representatives. Totally agreeing with the BC leaders, Lokesh said that attacks on the community are on the rise after the YSRCP came to power. At least 25,000 cases have been registered against BCs, he said and stated that once the TDP is into power all these cases will be lifted.
Even toddy-tappers are being subjected to various kinds of troubles, he said and promised to revive the Chandranna Bheema scheme when the TDP is into power.