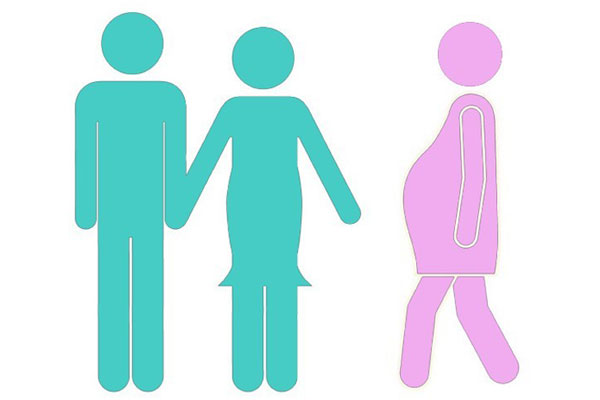 The Union Cabinet on Wednesday gave its nod to the long overdue Surrogacy Regulation Bill, 2016, that seeks to prohibit "commercial" surrogacy and denies foreigners, NRIs, single parents, live-in partners and same-sex couples from becoming parents through surrogacy.
Only married Indian couples would be allowed to seek surrogacy if they fail to conceive a child after five years of marriage and are able to prove through a medical certificate that they cannot conceive for some medical reasons. A surrogate mother has also to be in close relation to the couple seeking a surrogate child.
Union Minister Sushma Swaraj, explaining the features of the bill, said surrogacy is a necessity and not for "shauq" (hobby) or "anand" (pleasure).
The Bill lays down clear-cut rules for the procedure for the first time and allows "ethical altruistic surrogacy" to needy infertile couples.
Terming commercial surrogacy as "kokh ka vyapar" (trade of womb), Sushma Swaraj, who headed the Group of Ministers (GoM) formed to look into the matter of surrogacy, said it was becoming a "fashion" and "hobby" to produce children through surrogacy by "those who do not want to put their wives in pain".
Without naming anyone, she said that some celebrities who already have kids – both boy and girl – try to get another child through surrogacy as they "don't want to put their wives in (labour) pain".
Shah Rukh Khan, Aamir Khan and Tushaar Kapoor are some of the celebrities who have had kids through surrogacy.
"This Bill will curb this practice and would allow ethical surrogacy to needy infertile couples only and we have put several checks and balances for the same," Sushma Swaraj said.
Asked if the provision denying altruistic surrogacy to single parents, live-in partners and same-sex couples, was not discriminatory, she said that currently homosexuality is illegal in the country and hence, same-sex couple cannot be allowed to have children through surrogacy.
"We do not recognise homosexuality and live-in relationships in India. So how can we give legal space to such couples in this Bill," she said.
The Bill's provisions have drawn both praise and flak from different quarters.
The LGBT community has termed the bill homophobic.
"This comes from a very strait-jacketed patriarchal heteronormative understanding of a family. Our legislation needs to be more evolved," Aakriti Kohli, a Delhi University professor who made a documentary on LGBTs "In the mood for Love", told IANS.
All India Democratic Women's Association President Subhashini Ali said there is certainly a need for regulation of surrogacy in India where exploitation of poor women, who often act as surrogate mothers, is quite rampant.
"Renting a womb has become a commercial exercise and this is not the way it should be. There is certainly need for regulation. The person who is a surrogate, her rights have to be protected," Ali said.
However, the proposals of the Bill have not go down well with the medical fraternity who took strong exception to the strict rules.
Abha Mazumdar, Director, Department of IVF at Sir Ganga Ram Hospital in Delhi, told IANS: "I am completely against the government's decision. This is certainly going to trigger corruption in surrogacy just like rackets being run in kidney transplants across the country."
"Commercial surrogacy cannot be banned in India… the government should have given a second thought to it," added Mazumdar, who is considered the founder of IVF procedure in India.
In recent years, India has emerged as a surrogacy hub for couples from different countries and there have been reported incidents concerning unethical practices, exploitation of surrogate mothers, abandonment of children born out of surrogacy and rackets of intermediaries importing human embryos and gametes.
According to estimates, currently more than 2,000 surrogacy clinics are operating across the country. As per the Bill, a surrogacy clinic must register itself with the government, else it would be deemed illegal.
"There is a provision of 10 years imprisonment and Rs.10 lakh fine on clinics which fail to abide by the rules," Sushma Swaraj said.
She said the Bill will control unethical practices in surrogacy, prevent commercialization of surrogacy and will prohibit potential exploitation of surrogate mothers and children born through surrogacy.
"A surrogate mother must be married and have at least one child. A woman would be allowed to become a surrogate mother only once. Similarly, a couple can avail surrogacy only once in their lifetime," she said.
According to the proposed legislation, couples having kids or having adopted a child cannot use surrogacy.
The Minister clarified that a surrogate child will have all the rights that a biological child has, including right to property.
The Bill is likely to be brought up in the next session of Parliament.
The Minister also took a dig at Bollywood celebrities for using surrogacy despite having kids.
"I am pained to say that the procedure that started as a necessity, has become a hobby of sorts. This is not a thing for pleasure…it has become a fashion these days," she pointed out.
The legislation envisions setting up of National Surrogacy Board and State Surrogacy Boards to regulate the process.
The 228th report of the Law Commission of India also recommended prohibiting commercial surrogacy and allowing ethical altruistic surrogacy through a suitable legislation.